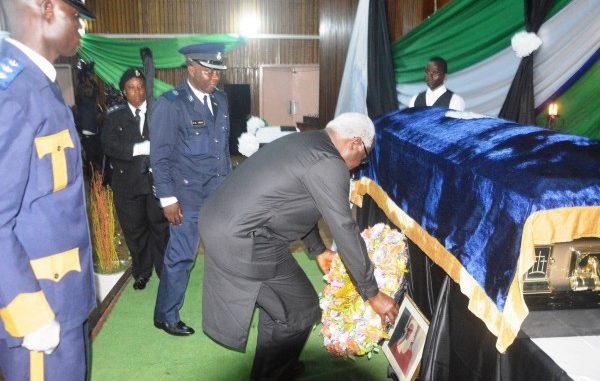 His Excellency the President, Dr Ernest Bai Koroma , accompanied by his wife, First Lady Mrs. Sia Nyama Koroma and Vice President Dr Victor Foh,  today attended the civic laying out ceremony for the late Hon. Justice (Canon) Maitland Emeric Tolla Thompson who passed away on Monday September 26th, 2016, aged 77 years.
The late Justice Tolla Thompson until his death was former Chairman of the Political Parties Registration Commission (PPRC). Funeral Service will take place at the St. Georges Cathedral Church in Freetown on Friday October 14th, 2016. Interment at Kissy Road Cemetery.
Please see Biography of Honourable Justice Canon Maitland Emeric Tolla Thompson (CORSL) 10th May 1939 to 26th September, 2016.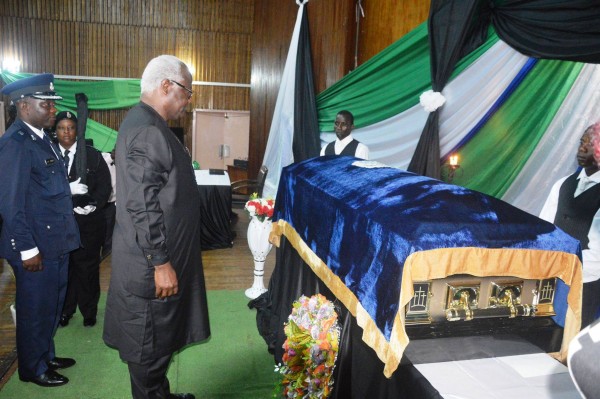 Honourable Justice (Canon) Maitland Emeric Tolla Thompson was born on the 10th May 1939 in Freetown. He was the last of six children born to Norman Thompson (a teacher from Freetown) and Marian Thompson (a business woman from Bonthe Island). He attended primary school in Bonthe and then Cathedral Boy's School before proceeding to Prince of Wales School in Freetown.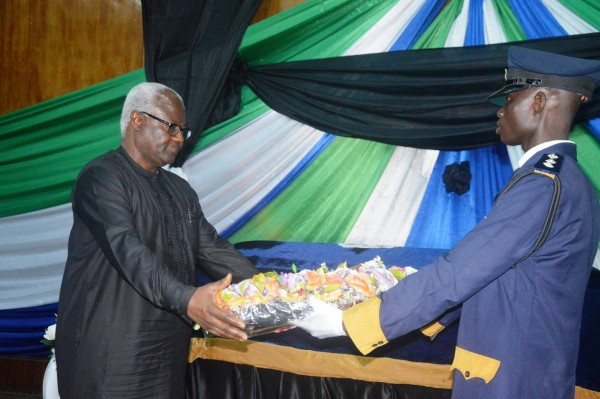 After leaving school, he worked briefly as a Clerical Officer before proceeding to England in 1960. He was called to the Bar by Honourable Society of Inner Temple in November 1970. He returned home in 1971 and practiced briefly with Johnny Smythe QC before joining the Judiciary of Sierra Leone. In 1971, he was appointed Deputy Master and Registrar. In 1973, he was appointed Magistrate, then promoted to Senior Magistrate in 1975 and Principal Magistrate in 1978 respectively. As a Magistrate, he presided over courts in Kono, Kenema and Kailahun districts and later Freetown.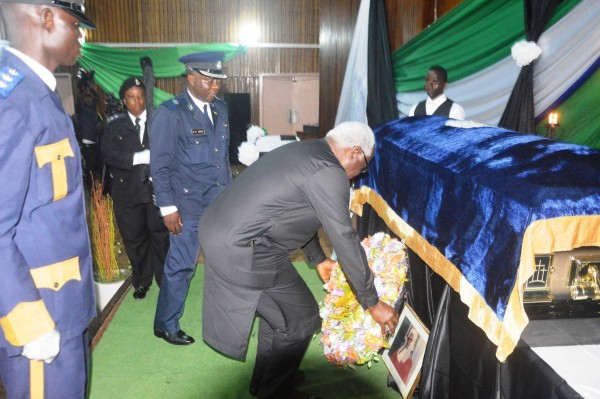 On the 12th July 1983 was appointed High Court Judge. In 1995, he was promoted to the Court of Appeal and in 2004 the Supreme Court. He also served as President of the Industrial Court. He conducted many enquiries including the Commission of Inquiry into the activities and administration of the Prisons Department. He served on the Rules of Court Committee for many years as well as Judicial and Legal Service Commission.
He was Chairman of the Board of Directors of the National Insurance Company from 1987 to 1992 and a member, of the Monuments and Relics Commission from 1989 to 1991.
In 1997, during the interregnum in Sierra Leone, he was appointed a High Court Judge in the Gambia. In December of the same year, he was appointed to act as Justice of Court of Appeal of the Gambia. He returned to Sierra Leone in December 1998 to continue his service.
He was an all-round sports man and at the Prince of Wales he won many trophies in the sprinting, long jump, cricket and football. So good was he that it was whilst he was still at school that he played football for Sierra Leone's national team. Later in life, tennis became one of his favourite sports and many who knew him in the 70s and 80s recall him as a very good tennis player. He also served as President of the Sierra Leone Cricket Association from 1989 to 1991.
He was a Match Commissioner for CAF as well as a member of its Statutes and Legal Committee. He also served as a member of FIFA's Legal Committee. He was President of the Sierra Leone Football Association from 1988 to 1991 and then for a second time for two terms from 1996. During his tenure, Sierra Leone qualified for the Under 17 World Cup for the first time in history. It was also under his stewardship that the Sierra Leone Football Association as in cooperated as a company limited by guarantee, thereby enabling it to reclaim its property at Kingtom and erect the administrative building and the building that was intended to be used as an academy, with boarding facilities for its students.
In recognition of his selfless and indefatigable contribution to both the Judiciary and sports Hon. Justice (Canon) Maitland Emeric Tolla Thompson (CORSL) was in 2007 had conferred on him, Commander of the Order of the Republic of Sierra Leone. In 2012, he was appointed by His Excellency the President Dr. Ernest Bai Koroma as Chairman of the Political Parties Registration Commission, a position he held and in which he served with distinction and honour until his demise. Many have testified of the objectivity he displayed in building consensus, tolerance and confidence among and between all political parties in an effort to support the country's democratic process.
He was a member of both the Peter Tucker Constitutional Review Commission on the 1991 Constitution and the current Constitutional Review Committee.
He served his church as a former member of the Greater Chapter of the Cathedral of St George, Lay Representative to Synod and a member of the Standing Committee of the Anglican Dioceses of Freetown and the North and various other committees. He was a life Patron of many associations not only at his church but also across various Christian denominations. He was made Lay Canon of the Dioceses of Freetown and the North in 2012.
He met Sarah Norman in 1958 and they were married in London on 29th October 1966. Their 50 year marriage was blessed with four (4) Children, Glenna, Lena, Madonna and Maitland Tolla (Junior), and six (6) grandchildren, Nadim, Nicole, Naya, Darah, Ethan and Daniel.
He served Sierra Leone to the end with passion, pride and humility. He was a unifier, a great mixer and never one to judge a book by its cover. All who came across him testify to his sense of justice and fairness. He was a mentor, benefactor and a father figure to many and a defender of the poor and the vulnerable. He was a sounding board and source of good, objective and genuine advice to all manner of people. He will be sorely missed.
Rest in Peace