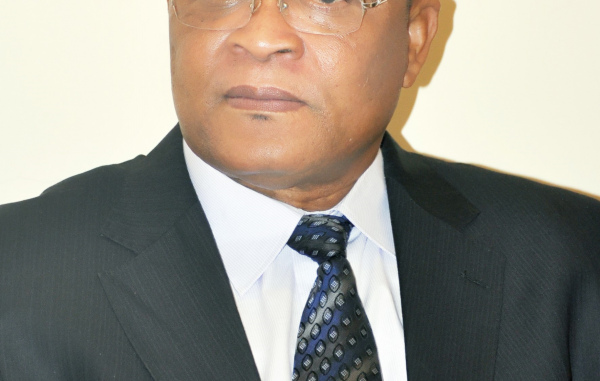 By M.B. Jalloh, Press Attaché Saudi Arabia and the Gulf States
 President Dr. Ernest Bai Koroma's envoy to the Gulf State of Kuwait and Sierra Leone's non – resident envoy to the Kingdom of Jordan and the Sultanate of Oman, His Excellency, Ibrahim Bakarr Kamara and Diplomatic staff of the Embassy have embarked on a campaign in countries of accreditation to contain the Ebola virus in Sierra Leone.
As the adage goes, "Charity begins at home" – the Ambassador has donated part of his July Salary to the Government of Sierra Leone through the Ministry of Foreign Affairs and International Cooperation and has in the same vein, encouraged Diplomatic Staff to follow suit. "Sierra Leone needs us now and we should act swiftly to expunge the scourge in our beloved country," the envoy told his diplomatic staff in Kuwait city.
The four diplomatic staff in the Embassy have adhered to the Ambassador's call to save their beloved country.  Ambassador and his diplomatic Staff reportedly contributed the sum of Le 30,000,000. The said amount has been transmitted to the Government of Sierra Leone to help contain the ravaging Ebola scourge.
In a separate development, the Sierra Leone Union in Kuwait in collaboration with the Embassy convened a meeting on 8th August 2014 at the Chancery. Addressing the meeting, Ambassador Kamara intimated his compatriots about the unprecedented outbreak of the Ebola virus and its consequences on the economic activities of the country.
He encouraged the Union to join forces with the Accelerated Ebola Outbreak Action Plan. He also encouraged them to take part in the sensitization of respective families back home. "Ebola is real," the envoy reiterated.  He appealed to all and sundry to work collectively with his Mission to prevent the spread of the virus in their county.
Responding to His Excellency's call for collective action, a total of 540 Kuwaiti Dinar (USD $1,900) was contributed by Sierra Leoneans resident in Kuwait City, while a good number of them made pledged towards the same course.
In collaboration with the Sierra Leone Union in Kuwait, the Ambassador said, his Mission will again transmit the afore-mentioned amount of money collected from his nationals to the appropriate Government Ebola Account.
At the time of the outbreak, His Highness the Amir of the state of Kuwait, Sheikh Sabah Al-Ahmad Al-Jaber Al-Sabah was and is still out of the country, but he has reportedly authorized his cabinet to donate the sum of $ 5M to the World Health Organization to help contain the Ebola virus in the infected countries in West Africa.
Meanwhile, the Ambassador is also scheduled to travel to the Sultanate of Oman and the Kingdom of Jordan to solicit more support in the fight against the deadly virus.