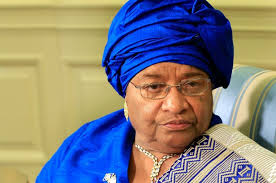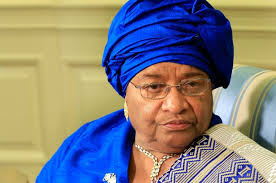 MONROVIA, September 14 (LINA) – President Ellen Johnson Sirleaf has dismissed 10 government officials with immediate effect for failure to honor her directive regarding restrictions on travel of government officials.
The President had also asked absentee officials to return within a week for those who were out of the country without excuse.
According to an Executive Mansion release, those dismissed are Dr. Othello Gongar, Commissioner, Governance Commission;  Ms. Kona Beysolow, Commissioner, Public Procurement and Concessions Commission and Cllr. Wheatonia Dixon-Barnes, Deputy Minister for Administration and Public Safety, Ministry of Justice.
Others are Ms. Victoria Sherman-Lang, Deputy Minister for Economic Affairs,
Ministry of Justice; Mr. Hilary Sirleaf-Siakor, Assistant Minister for Prisons, Ministry of Justice and Ms. Ardia Kaikai, Assistant Minister for Afro-Asian Affairs, Ministry of Foreign Affairs.
Also sacked are Ms. Lauretta Reffell, Assistant Minister for Administration, Ministry of Public Works, Mr. James H.R. Cooper, Assistant Minister for Administration, Ministry of Post and Telecommunications; Ms. Meapeh Gono-Glay, Assistant Minister for Administration, Ministry of Labor; and Mr. Ebenizar Z. Gibson, Assistant Minister for Trade Union, Ministry of Labor.
The Liberian leader said these government officials showed "insensitivity to our national tragedy and disregard for authority."
According to the press release, for members of various Boards not subjected to direct Presidential travel approval, they are to forfeit salaries, compensation, benefits and Board fees until they return home.
Those who fall in this category include are Ms. Jackie Khoury, Member of the Board of Directors, NOCAL; Ms. Massa Roberts, Member, Monrovia City Council; Mr. James P. Cooper, Member of the Board, Liberia Telecommunications Corporation; Ms. Miata Beysolow, Chairman of the Board, National Social Security and Welfare Corporation; and Mr. James Thompson, Member of the Board, Liberia Water and Sewer Corporation
Meanwhile, according to the press release, junior officials who are also not subject to Presidential approval will forfeit all compensation and benefits until they return home to join in the fight against the Ebola virus disease.
Those in this category are Ms. Christine Norman, Mayor, Bensonville City, Montserrado County; Mrs. Ade Jones Captan, Commissioner, Congo Town, Montserrado County; Ms. Alexine Howard, Commissioner, Caldwell, Montserrado County; Ms. Annie Dillon, Commissioner Dixville, Montserrado County and Mr. Amos Forkay, Commissioner, Bolloh District, Grand Kru County.
Others are Mr. J. Kaydio Wreh, District Superintendent, Grand Kru County; Mr. Moses O. Z. Reeves, District Superintendent, Rivercess County and Mr. Nathaniel During, District Commissioner, Rivercess County
The release noted that for senior and junior government officials, including those from various agencies, commissions, and parastatals who have claimed serious, sometime, life-threatening medical conditions, they will be examined on a case by case basis.