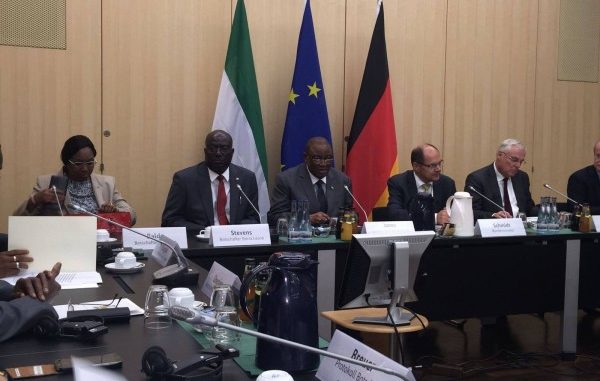 By Umaru S. Jah-Information Attaché Germany
In an effort to transform the agricultural sector for sustainable development in Sierra Leone, the Minister of Agriculture Forestry and Food Security, Professor Patrick Monty Jones has engaged his German counterpart, Christian Schmidt including development partners across Germany for what he described as a game changer to increase production and the value chain approach in Sierra Leone.
The Minister made such a move while he was recently in Berlin to officially inaugurate a joint research project between the Sierra Leone Agricultural Research Institute (SLARI), Njala University, the institute of Pasteur in Conakry, Guinea and the Federal Research Institute for Animal Health in Germany.
The project is focusing on the importance of livestock, domestic and wild animals as a source of infection for Ebola. Funded by the German Ministry of Food and Agriculture, the project will contribute to the closure of the existing knowledge gap regarding the role of wild animals as virus carriers and transmitters.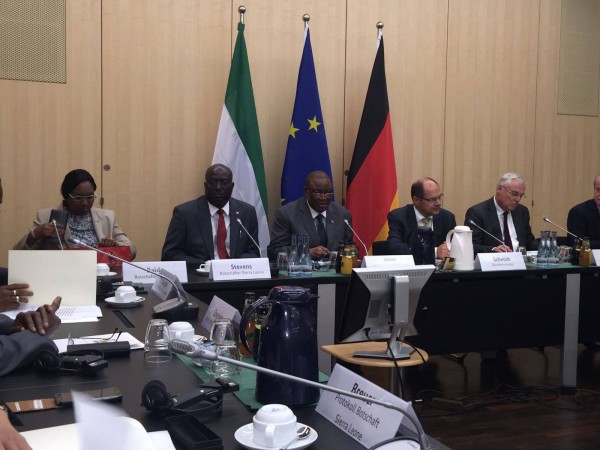 It will further provide training opportunities for scientists at the Sierra Leone Agricultural Research Institute and Njala University, who will be traveling to Germany under the cooperation agreement.
Shortly before the handing over ceremony of the project, Professor Jones informed the Federal Minister of Agriculture in Germany, Christian Schmidt that Sierra Leone's agriculture has been mainly consisting of subsistence farming, which is why his Ministry he said, is making sure that commercial farming becomes a practice to increase food production and allows local consumers to buy the same quantity of food at a lower price.
He said, his Ministry, under the leadership of Ernest Bai Koroma, is determined to ensure that farmers produce more crops and generate more income for all participants along the chain, hence the concern to find ways to integrate small producers into more modern value chains, both domestic and export oriented.
Professor Jones disclosed the importance his government attached to agriculture, which he said is aimed at reducing poverty and enhance food security in the country.
He noted that as a key economic sector in the country, agriculture accounts for approximately 47 per cent of GDP in the country. With the advent of the recent Ebola outbreak in the country, Professor Jones said all the gains made over the years have been stagnated.
Against this backdrop, he appealed to the German Minister and other meaningful development partners for effective collaboration in identifying weak points in the value chain and actions to add more value through technical and other forms of assistance in the agricultural sector.
He further requested for more support to protect and build on the fragile, yet significant development gains made before Ebola across the country.
The Minister was accompanied by Sierra Leone's Ambassador to the Federal Republic of Germany, H.E. Jongopie Siaka Stevens, the Director General of the Sierra Leone Agriculture Research Institute, Dr. Joseph M. Kargbo and the Minister's Personal Assistant/Deputy Permanent Secretary at the Ministry of Agriculture, Mr. Abass S. Kamara.