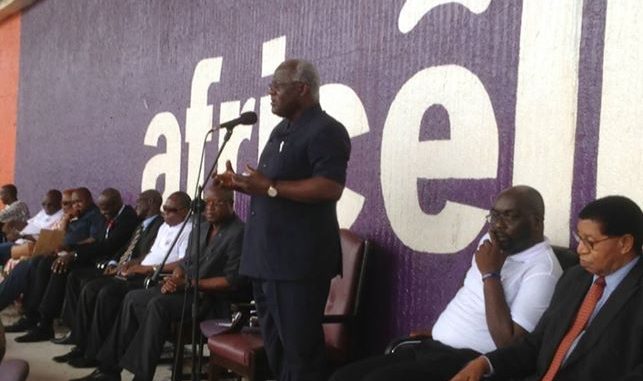 President Dr Ernest Bai Koroma has on Tuesday December 3rd said that no country can be truly democratic without the fullest participation and positive contributions of the disability community, which is the largest minority group in the nation. He made this statement during the commemoration of the International Day of Persons with Disabilities (IDD) under the theme: "Break Barriers, Open Doors: for an Inclusive Society for All" held at the National Stadium Main Bowl, Brookfields."Because we know this, because we want this country to be a middle-income country, because we respect you, we will work with persons with disabilities to achieve the objectives set out in the Agenda for Prosperity", said President Koroma, and pledged to ensure persons with disabilities enjoy full equality and unhindered participation in all facets of our national life.
The President paid glowing tribute to the unimaginable skills demonstrated by the Sierra Leone Amputee Sports Club, the Cricket team of the Visually Impaired, the Wapoleans, and the Blind Musical Flame, saying that when given the opportunity, the sky is their limit. "We are the first government to recruit persons with disability into the police force; we are a government that has appointed persons with disability to high office, he confidently said.President Koroma further maintained that since he assumed office in 2007, his government has been a national leader in advancing the rights of people with disabilities. "From the Serra Leone Persons with Disability Act of 2011 to the National Commission for Persons with Disability which we established last year, we are striving to mainstream disability and are currently working on comprehensive opportunities in education, health care, and accessibility within reach for every person with disabilities", the president said, and pointed out that actions like these can only be made possible through the tireless and ongoing efforts of the disability community.According to President Koroma, to fulfill the disability promise in Sierra Leone, government is putting disability rights at the heart of the National Strategic development framework as encapsulated in the Agenda for Prosperity. "In Pillar Six of that development roadmap, my government has expressed it's sustained commitment in improving the lives of persons with disabilities. My administration is working in close consultation with the National Commission for Persons with Disabilities in order to provide access to education, health care, transportation, accessibility, prevention and treatment, and other development programs for persons with disabilities", said President Dr Ernest Bai Koroma.
The president recalled that Sierra Leone, in 2009, signed up to the Convention on the Rights of Persons with Disabilities, which seeks to ensure persons with disabilities enjoy the same rights and opportunities as all people, and pledged that government will continue to create spaces for the disability community to thrive. He also instructed on the Ministry of Transport and Aviation to provide a bus for the NCPD, amidst rapturous applause.
According to the Minister of Social Welfare, Gender and Children's Affairs, it is an indisputable fact that as a focal ministry on disability, they are in jubilant mood as we celebrate the journey to make Sierra Leone a disabled friendly society just a little over one year after the establishment of the National Commission for Persons with Disability. "We are indeed proud of the progress we have made so far though much is still to be done as persons with disability deserve more. This progress would have been far-fetched without the tremendous support of our relevant partners. I say kudos to all of you", said Mustapha Bai Attila who spoke on behalf of the host ministry.
Chairperson of the event, Dr Christiana Thorpe lauded the Ministry of Social Welfare, Gender and Children's Affairs for choosing the right theme: "Break Barriers, Open Doors: for an Inclusive Society for All" to commemorate such a great day. She said that the National Electoral Commission will put modalities in place to ensure persons with disabilities vote in the next elections.
Frederick J. M. Kamara, Chairman and Chief Commissioner of the NCPD said persons with disabilities have to be positive because of the existence of the act dealing with them, saying that the commitment shown by President Koroma towards Persons with Disability is a clear manifestation of goodwill by the president.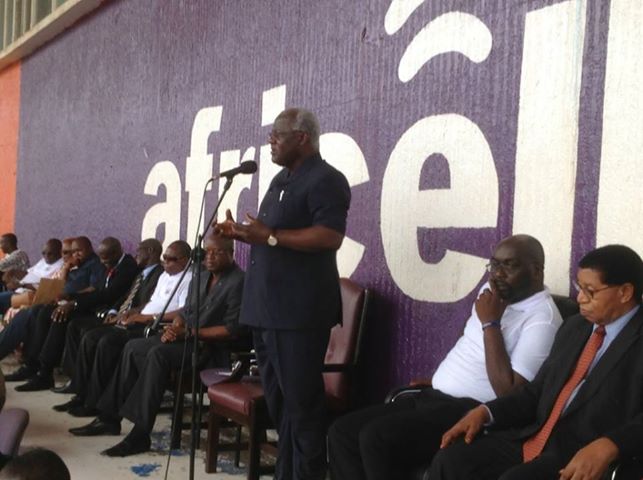 The World Vision National Director Leslie A. D. Scott said the theme for this year's celebrations cannot be more apt especially at this time, saying that it is a cross-cutting issue and is reflected in all their programs and projects. This, he said, means that they do not have a stand-alone project for disability. "We support people with disabilities through strengthening inclusive programming by having participation of people with disabilities in our designs, monitoring and evaluation and other decision making processes that affect their lives. We do this through Disabled People's Organizations (DPOs) that are established in each of our programs in communities; that is, the Area Development Programs (ADPs)", he said.
Minister of Health and Sanitation, Miatta Kargbo said that the vast majority of persons with disabilities are excluded from schools and access to health care services, they are excluded from opportunities to work; and support is limited due to social and economic obstacles, problems of physical access and prejudicial attitude towards persons with disabilities, saying that World Health Organization's estimates show that about 10% (600,000) of the population of Sierra Leone are living with some kind of disability. "I would like to commit that my ministry will continue to work in close collaboration with the National Commission for the disabled to ensure that access to affordable and quality health services are improved.
The deputy minister of Transport and Aviation, Ibrahim Mansaray said that persons with disabilities will be given priority to board buses and other public transportation, including airplanes. He pledged their commitment to work with NCPD to ensure their conditions are improved.