Mr. Chairman,
Distinguished Delegates
Sierra Leone aligns itself with the statement delivered by the distinguished delegation of Ethiopia on behalf of the African Group.
Since the adoption of the Millennium Development Goals about 13 years ago, substantial progress has been made in meeting many of the eight Millennium Development Goals, including visible improvements in the health sector as well as primary education and halving the number of people living in extreme poverty. However, progress is uneven, particularly for women and girls and in many other areas, far from sufficient.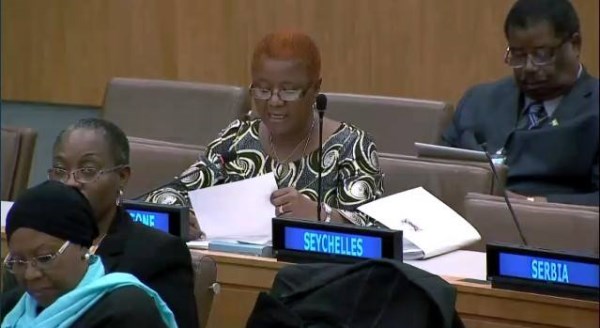 Deputy Foreign Minister Minister Dr. Ebun Jusu addressing the UN yesterday .Seated behind is Minister Plenipotentiary Leeroy Wilfred Kabs-Kanu
We want to thank the Secretary-General for presenting the gamut of reports on all aspects of advancement of women. These reports  are significant score boards in assessing the progress as well as the gaps in our collective efforts to empower women in consonance with the standards agreed in the Beijing Declaration and Platform for Action. We strongly agree with the Secretary-General that violence against women and many other challenges are unequivocally rooted in the uneven power relations between men and women, and that violence and discrimination against women is a key deterrent to women manifesting their full potentials and capabilities. This serious concern has been highlighted quite often at various fora.
While positive steps have been taken at the national, regional and global levels, including but not limited to the UN system, to promote gender equality and mainstream every facet of gender issues into all policies and programmes, there is a lot more to be done. Women continue to be one of the most marginalized groups in our societies. It has now become a global concern that discrimination against women is a serious issue as it negatively impacts their dignity and self esteem and debars them from  full participation in the  development and decision making process.
Mr. Chairman,
Delegates
In Sierra Leone, despite numerous challenges, we remain committed to support the agenda of empowering women in all spheres of life. This was demonstrated in 2008, when the Ministry of Social Welfare, Gender and Children's Affairs (MSWGCA) began to develop a National Strategic Plan of Action. This is an outcome document of wide consultation with stakeholders from National and International NGO's, members of UN agencies, including the Theme Group on Gender, local experts and researchers from the University as well as local community leaders. In that exercise, many relevant legal and government documents were referred to, including annual action plans of various Ministries, Departments and Agencies (MDA's), the national twin policies on the Advancement of Women (2000) and Gender Mainstreaming (2000), the Local Government Act (2004), the 1991 Constitution, the Poverty Reduction Strategy Paper (PRSP), population reports, reports on gender-based violence (GBV), and the three Gender Acts of 2007. They also reviewed the International frameworks such as United Nations Security Council Resolutions (UNSCRs) 1325 and 1820; the Convention on the Elimination of all forms of Discrimination against Women (CEDAW), the Millennium Development Goals, the 1995 Beijing Platform, the African Union Declaration on Gender Equality and Development and the ECOWAS Protocols on Women and Development.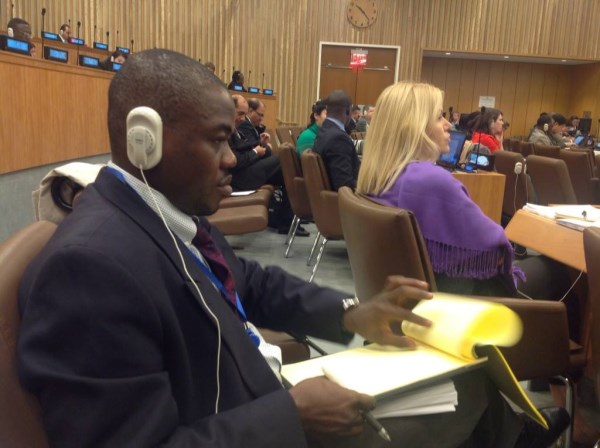 The Third Committee Expert Counselor Franklyn Fawundu is seen here behind the DFM
Mr. Chairman,
Delegates
Let me take this opportunity to inform you that in July of this year, the President, H. E Dr.Ernest Bai  Koroma launched the "Agenda for Prosperity", Sierra Leone's roadmap to our Post-2015 Development Agenda. Pillar 8 of this Agenda addresses Gender and Women's Empowerment wherein Government has committed itself to gender equality and Women's Empowerment, signing a range of policy declarations and enacting legislations.
The National Gender Strategy Plan which is one of Government's flagship development programmes aims to mainstream gender in all government policies so as to achieve gender equality in legislation, participation, representation, empowerment and the distribution of resources. It also aims to serve as a tool for efficient coordination of gender response programmes for tracking joint government-donor policies and budgets on gender related programmes. The hope is to provide a strong advocacy and resource mobilization tool for effective gender programme delivery in Sierra Leone. The Strategic Plan outlines several initiatives focused on the advancement of women in key priority areas.
The "Gender Strategy Plan" of the Ministry of Social Welfare, Gender and Children's Affairs' is engaged in policy review on gender issues, developing a coordination mechanism to increase understanding of gender issues. This is done by promoting access to justice for women to enhance, through information and education, capacity for women's participation in decision making.  Sections of the Constitution identified as disadvantaging women will be considered during the pending National Constitutional Review Process.
The Government of President Dr. Ernest Bai Koroma, continues to strengthen the National Committee on Gender Based Violence (NaC-GBV), to promote women's sexual and reproductive rights (SRHR) and establish response mechanisms for GBV survivors (free medical treatment and legal services).This has resulted in the coordination of referral systems as well as awareness among local authorities about GBV and the services available.
Other initiatives taken for women empowerment include the Child Rights Act of 2007, free primary and secondary education for girls, free university education for girls in the sciences, the promotion of functional literacy programmes for women in rural and urban areas. There is also collaboration with micro-finance and credit institutions to support loan schemes for women and provision of access networks in small and medium business enterprises.
Mr. Chairman,
Delegates
It is a foregone conclusion that the Beijing Platform remains a formidable and comprehensive global policy framework for a satisfactory realization of gender equality, women's rights and the empowerment of women and girls. The recent review of the Beijing Platform underscored the progress made in global, regional and national policy development and there is increased access for women and girls to education. However, disparities remain between regions and within countries across the 12 critical areas of concern to the Platform.
We should be mindful that the persistent gaps in the implementation of the Platform will negatively affect progress in achieving the MDGs. With only two years down the road, there is need to further strengthen collaboration in our collective efforts on the gender dimensions of all the MDGs to enhance the possibility of their timely implementation.
Consequently, there is dire need for sustained international cooperation and global partnerships in mobilizing financial resources through domestic and international channels, to ensure steady and meaningful progress.
Mr. Chairman,
Delegates
In closing, I would like to emphasize that the empowerment of women requires focused attention from states throughout the world to create a caring, just and peaceful world for all.
I thank you for your kind attention