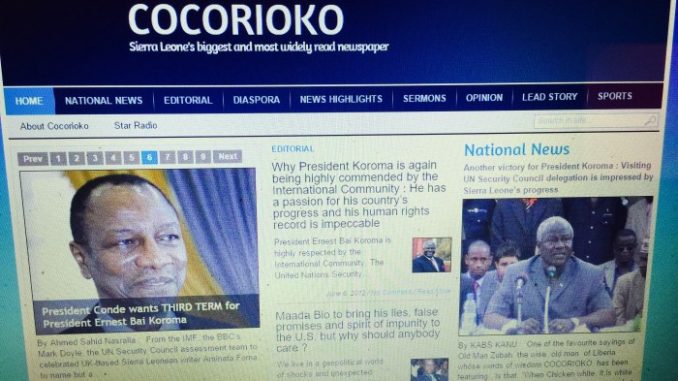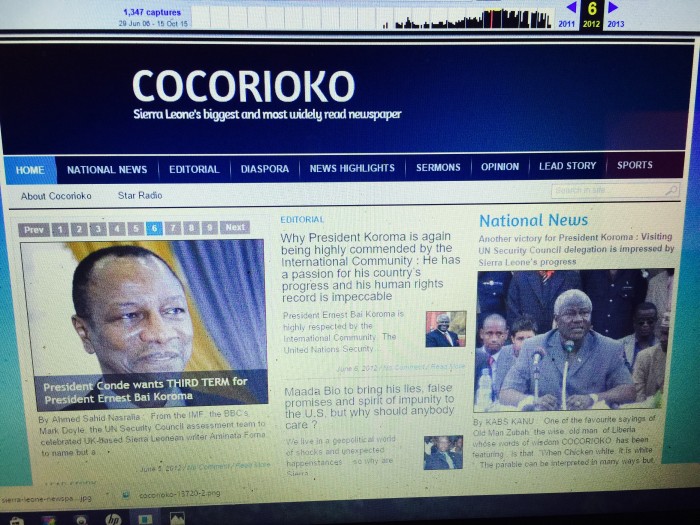 Traffic to the Cocorioko.net site has become so large that the website will continue to crash now and again, our Information Technology expert and technician, Mr. Muckson Sesay warned last week. The number of visitors to the Cocorioko website and the pages they visit have quadrupled and unless the newspaper has its own dedicated server, it will continue to crash, warned Mr. Sesay .
Mr. Muckson Sesay, a website developer , who also hosts many websites , including  the Standard Times newspaper of Freetown and the David Tam-Mbayo -made-popular  Star Radio with his famous program, Monologue, said  that according to the traffic statistics found in the web server log file,  Cocorioko has the largest traffic of all Sierra Leone websites.
Mr. Sesay attributed the astronomical traffic to the fact that Cocorioko has become the best source of official news from  Sierra Leone.  However much people criticize a website for promoting views that are contrary to their political beliefs, they however rush to the website because everybody wants to know what their government and officials and functionaries are  doing. Though opposition Sierra Leone People's Party ( SLPP )  fanatics and anti- All People's Congress ( APC ) partisans  do not support Cocorioko's   views, which is normal in a democracy with active political activism, they find Cocorioko a useful website for monitoring the activities and agenda of their traditional rivals, the APC. The generality of Sierra Leoneans love the paper for the consistency of its views and for its thorough news coverage , action pictures and unique style of write-ups.
For the upteenth time, the Cocorioko website crashed two weeks ago and was offline for a few days , prompting anxious calls all over the world from our readers , especially as it coincided with the events where Sierra Leone was going to be declared Ebola-free and there were crucial bye-elections in Freetown, Kenema and Kailahun.  Muckson said that the heavy traffic to the site crashed the website.
Mr. Muckson Sesay has worked  with the Publisher of Cocorioko, Leeroy Wilfred Kabs-Kanu , for the paper to have its own dedicated server .
COCOCORIOKO  commands an immeasurable crowd. IN ADDITION to the Cocorioko .net website, the paper has a very huge and  strong presence in the social media with its COCORIOKO FORUM OF PATRIOTS at Facebook having 30, 000 straight readers and its Facebook DAILY NATION  forum having 34, 000 readers. Cocorioko's Government International Media Network Forum has 15, 000 members while its REBRANDING SIERRA LEONE FORUM  has 16, 000 people. That means that over 100, 000 people from all over the world, including Sierra Leone,  read our newscasts, updates  and editorials in the social media daily, making the newspaper a household name in Sierra Leone . Cocorioko is also found at Twitter and LinkedIn with significant following there too.  Cocorioko Publisher Kabs Kanu , who has also entered an agreement for a TV  station , aims at global media dominance.
We just wanted to let our readers know why the website crashes frequently and moves we have taken to arrest the problem.