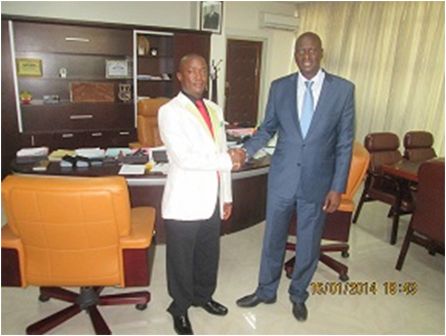 Sierra Leone's Minister of Youth Hon. Alimamy Kamara while attending the 4th PAN-AFRICAN SUMMIT OF YOUTH LEADERS OF THE UNITED NATIONS in Senegal paid a courtesy call on his Senegalese counterpart Hon. Benoit Sambou Minister of Youth Employment and Promotion of Civic Virtue, in order to further discuss issues and challenges facing the African Youth.
Speaking to his counterpart, Hon. Alimamy Kamara said due to the strong diplomatic ties between both countries, it is of vital importance that they hang heads together and share common experiences and identify problems affecting youth and map out strategies in addressing those issues, thus preparing them for future leadership.
 Top :  Alimamy Kamara and Benoit Sambou)
He informed the Minister that back home his Ministry is a new one, being the vision of his President Dr. Ernest Bai Kororma to promote the youth and prepare them for future governance. "To face the challenges of the Youth, my Ministry is collaborating with other Ministries of Education, Agriculture, Employment, Health and other Institutions and the general public as a whole," he said.
Francis Kamara and Florence Mabinty Koroma
Senegal he pointed out is a bigger nation with a youthful population and that the government has the experience. "As a result I am here together with two young people Francis Kamara and Florence Mabinty Koroma from Youth Organizations to see how we can collaborate with your government and country youth and even exchange programs and visits," he added.
The Senegal Minister for his part thanked his counterpart for the visit especially as it centers around youth. He admitted that youth affairs are very dynamic and complex and that without proper collaboration with Heads of Government, youth affairs would remain still to be challenging. "Youth problems are very challenging, common and problematic and to really understand them we often got to bring them together for discussions and thus being able to identify their problems and how they can be managed and addressed" he noted.
He said the issues of youth are top on all government's agenda and that strong moves and action should be taken to properly address them if peace should be given a chance. Mr. Sambou informed that President Macky Sall attaches great importance to youth affairs and that government involves the youth practically in everything including politics and that he observed has indeed help both the government and youth to a great extent. He promised to jointly organized exchange youth visits to see how far that can help in building youth spirit and challenges in preparing them for leadership positions.
Both Ministers agreed to identify a focal person in their ministries to assist in coordinating the youth affairs.