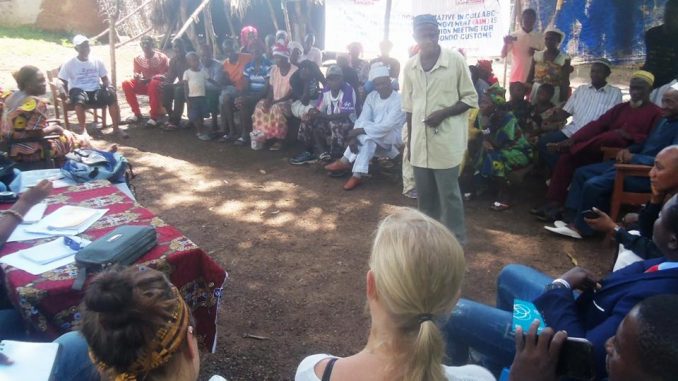 By Hassan Bruz
Northern Bureau Chief
'Bondo' – is undeniably one of Africa's oldest and most cherished traditions. It used to be regarded as a preparatory process through which girls were trained on how to become much more useful persons in society. They used to be particularly trained on the good values of life to enable them become respectful to elders, loveable housewives and responsible mothers. It became so much a requirement for African young girls that Parents saw it an obligation to have their girls initiated into the Bondo. It was subsequently transformed to a Society and severed as a show of affluence by Parents and Families. Bondo Society was then marred with protracted ceremonies. As a matter of fact, Women and other Actors used it to as a way of life and source of living.
For Sierra Leone and most other African Countries, the Practice was blemished with undeserved, lavished and elaborate expenditure. But what is far more frightening is the discovery of a series of harmful activities in the Process. Prominent amongst them is the aspect of removing the 'genital organ' of girls. This is deduced to have caused a lot of hazards on girls that have gone through the process. Either the crude manners in which the art is being done or the excruciating pain they incurred, girls often ended up losing their lives or rendered barreled.
The damage has become so immense that there are now some Human Right Organizations agitating for the Practice to be reviewed. Amazonian Initiative Movement [AIM ] is one of such Organizations. Its Leadership is currently conducting Induction Sessions in the North West District of Port Loko with support from Canada. The previous Session was held at Rothumbo in the Bekeh Loko Chiefdom which attracted key stakeholders including Traditional Authorities , Civil Societies , the Sierra Leone Police and Religious Leaders. It was chaired by Mr. John Gbla – a senior staff of AIM who observed that the Practice could lead to abject poverty if the negative aspects of it were not reviewed.
He was buttressed by the National Coordinator for Amazonian Initiative Movement [AIM ] – Rev. James Kumbuno, who opined that Female Genital Mutilation [F G M ] has resulted to a lot of complicated diseases and untimely deaths on Women. He noted that Women have suffered for far too long and that it would be quite difficult for a Nation to develop in such a situation. He further cited the plight of children especially girls who were being subjected to the Bondo Culture. Rev. James Kumbuno informed the gathering that it is a serious offence for Girls to be removed from Schools and conveyed for such Traditions. He said AIM has therefore deemed it necessary to champion the move as there is need for Stakeholders to reflect on issues affecting Women and Children with a view to come up with workable alternatives .
In her remarks, the Founder of the Movement – Madam Rugiatu Neneh Turay Koroma noted that there are so many Bondo Shrines [ Yankaas ] in Port Loko than most other Societies including Ojeh and Porroh Bushes put together. She said even though singing, dancing and a few other aspects of Bondo are good enough and should be entertained, yet the art of Female Genital Mutilation [FGM] is bad and should be discontinued. She said the initial purpose for Bondo has long been flouted and now requires a review.
Madam Rugiatu Neneh Turay used the occasion to outline the level of backwardness Bondo Initiations have brought on Families and Homes. She said Bondo activities do not seem to respect Education, citing the lots and lots of girls that have become School Dropouts while many more are reduced to teenage pregnancies. She gave the example of a girl she personally rescued from what appeared to be forceful initiation to the Bondo Shrine -'Yankaa'. She said the girl in question was now in a Junior Secondary School class at the Amazonian Bilingual School at Rolal. Madam Rugiatu Neneh Turay Koroma therefore stressed the need for all to brainstorm on alternative measures through which the Culture could be cherished without the aspect of Genital Mutilation.
Her version was not only thought -provoking, but it further sparked frank talks in the experience sharing session that climaxed the deliberations. Pa Sewa Bangura of Mathaska spoke on the case of a lady that fell near to a Yankaa out of hunger while returning from voting in an election. Unfortunately, she was perceived to have been knocked down by the spirit of the Yankaa. He said the lady was going to be forcefully initiated if it were not for his timely and robust intervention.
His testimony was followed by that of Pa Issa Kamara of Ropolon 1. His explanation was centered on the sufferings that befall his home, after he succumbed to the appeal of her elder sister who asked him to assist her circumcise her children. Pa Bangura explained how it badly impacted on the entire family.
Ya Kolloneh Kamara from Ropolon Kamara village and Ya Sampa Soko Kororma from Ropolon Bangura, are senior Soway women. They openly confessed that they have not had any noteworthy reward in their years of Soway Practice . They therefore expressed delight over the move by AIM and accepted the proposed change of profession.
Perhaps the narrative of Pa Mohamed Tarawali of Rothoumbo is the most perturbing. It has to do with his daughter who sustained a fractured foot after the walls of an abandoned house had collapsed on her. The incident was attributed to primitive loyalty with an argument that she was being desired by the Soways to join the Shrines. The poor girl was therefore treated locally but has still not recovered fully. AIM 's Team of Partners from Germany which is being headed by Madam Stella Rothenberger, was saddened towards the end of this induction session, when it saw the girl limp home from School with her bad foot. Stella and Neneh had to quickly confer with the family which consented for the girl to be conveyed to the Port Loko Government Hospital to determine the sort of assistance to be accorded her.
. The occasion was graced by Hon. Abdul Latiff Saesay who praised the efforts of AIM and Partners as the deliberations ended with a concession that Female Genital Mutilation is harmful and the practce should be discontinued. The Soways however prevailed on AIM and Partners to assist them with business capitals, Water wells and other alternatives to enable them eke out a living devoid of street begging as they vowed to abandon the age old profession. You could see the photos below to help you imagine the situation…..