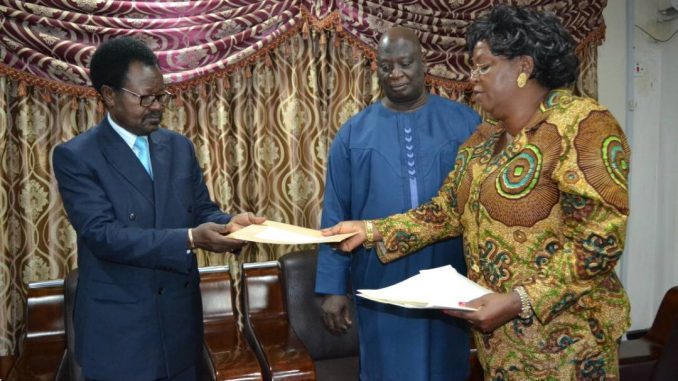 PRESS BRIEFING
MRU DONATES TO FLOOD VICTIMS
MRU Communications
Freetown 4th September 2017 – The Secretary General of the Mano River Union Ambassador Medina Wesseh today made a donation of US$10,000.00 on behalf of the Secretariat and Staff of the Mano River Union to the Vice President Victor Bockarie Foh at the offices of the Vice President Tower Hill Freetown. In making the donation, Ambassador Medina Wesseh expressed heartfelt condolences to the families of those who lost their lives during the mudslide and flooding in parts of the Western Area on that fateful Monday 14th August 2017. She apprised the Vice President of the efforts that the Mano River Union staff team to sympathize with the people and government of Sierra Leone on account of the terrible loss to life and property on that day and commended the efforts of government in the swift response it had taken together with the Security Services, Police, Military, Red Cross and other development partners in reducing the suffering of those displaced by the natural disasters.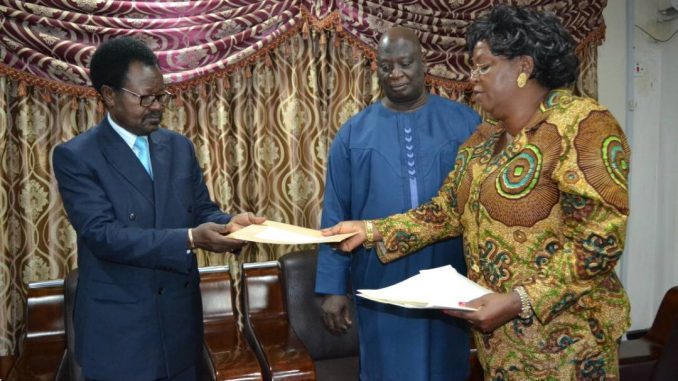 It can be recalled that the Heads of States of the other member states of the Manor River Union comprising of Liberia, Guinea and Cote D'Ivoire were very visible in supporting Sierra Leone during the period immediately following this grave disaster. President Alpha Conde was the first to arrive in Sierra Leone to sympathise with His Excellency the President Dr Ernest Bai Koroma. President Ellen Johnson Sirleaf came to join President Koroma at the symbolic burial of the dead when she accompanied him to the funeral of over 300 bodies in a very solemn ceremony at the Waterloo mass graves. President Alhassan Ouattara who had only just left Sierra Leone the previous week after a brief working visit, sent a high powered delegation of very senior Ministers to express their own commiserations to the government and people of Sierra Leone.
Responding to the Mano River Union delegation, Vice President Victor Foh thanked the delegation for their kind consideration and support to the Government of Sierra Leone at this time of grave loss. He commented on the efforts of the Heads of States of the Mano River Union and confirmed that their show of solidarity expressed to him the practical meaning of our collaborative efforts to form a functional economic union. Vice President Foh stated that Government's priorities now are to relocate the survivors to safer sites and for the construction of housing units and other social amenities for their safe resettlement.
Accompanying the Secretary General were the Deputy Minister of Finance and Economic Development II, Alhaji Mansaray, who introduced the Secretary General and her team to the Vice President, Deputy Secretary General with responsibility for peace and security, Madam Jacqueline Konan, Finance Officer Mr Julius Hallowell, Programme Officers Mr A Diallo and Ms Nyaibor Ngombu, Personal Assistant to the Secretary General, Tony Dweh and Military Attache' Sergeant Thomas, MRU staff welfare officer.
END