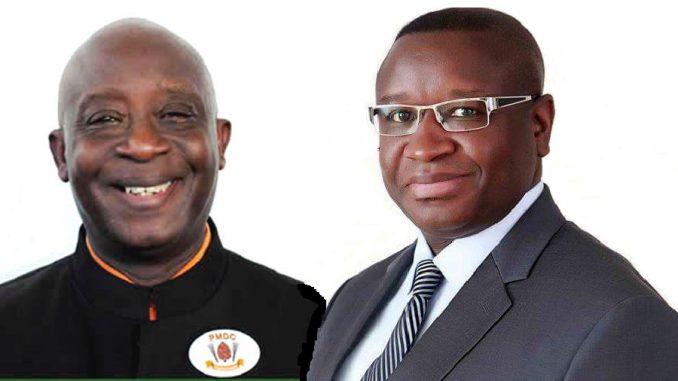 By KABS KANU
Wherever Lawyer Charles Margai goes, he makes waves with his mouth . Well, it looks like  the newly-appointed Attorney General and Minister of Justice may have misspoken himself out of office. The whole nation was jolted yesterday when it was announced from State House that Mr. Charles Margai had been fired.
When the news of Margai's dismissal broke on the social media, many people thought it was a joke but a press release from State House confirmed that Charles Margai had indeed been relieved of his post. He is the shortest lived Attorney General and Justice Minister ever in the history of Sierra Leone, serving less than two months.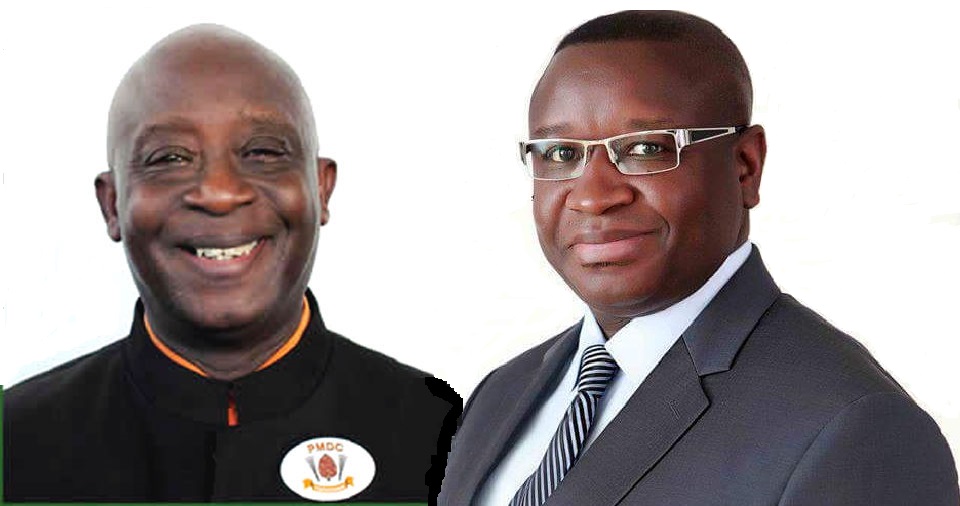 THEY HAVE FALLEN OUT , TOO SOON : CHARLES MARGAI ( LEFT ) AND PRESIDENT BIO 
There was no official reason for the dismissal , but late last week Mr. Margai seemed to be getting himself embroiled in conflict with President Bio, going by the contents of a leaked memo he had sent to the President , seeming to force the President's hand to extend his spurious spate of dismissals of diplomats and public officials to the Chief Justice, the Chairman of the Anti-Corruption Commission ( ACC) and others.
The leaked memo was said to have troubled President Bio as it seemed to have demonstrated what had been feared all along that the fiery, extremist , bad tempered and loquacious lawyer would not only use his position to settle old scores with members of the old administration of the dethroned All People's Congress ( APC )  but would force the President to overstep his bounds. He is also alleged to have been pressurizing President Bio to also institute a commission of inquiry to robe into the finances of officials of the old government.
Some political observers told COCORIOKO  last night that President Bio may have found his attorney general and justice minister too overbearing for his comfort all too soon and so he decided to fire him to stave off future major controversies with him . Before yesterday's dismissal, supporters of the APC  had already been complaining on social media that Mr. Margai, thought to be a vindictive man, had already pointed his arrows of vendetta against former President Ernest Koroma, with whom he had a famous fall-out after Margai, through his political party , the People's Movement For Democratic Change ( PMDC ) endorsed Koroma's APC  for the 2007 Presidential runoff , which Koroma's party went on to win.
Others feel that the problem goes deeper than the reasons above and that Bio and Charles Margai may have fallen out because Retired Brigadier Bio does not want to be told what to do. He wants to be the boss, who has the final say not only on decisions by his government, but even the timetables for taking these decisions.  Bio, it is also believed , may have suspected that somewhere along the line, his attorney general may try to outshine him and took yesterday's action to pre-empt that possibility.
A member of the legal profession, Lawyer Leon Jenkins-Johnston , however expressed grave disappointment with the decision , lamenting that a great opportunity to restructure the Sierra Leone judiciary had been frittered away. Some  private citizens on social media also disclosed that they were absolutely shocked by President Bio's decision which they considered abrupt, needless, hasty and premature. Others thought the decision played into the much-condemned profile President Bio has created about himself , to be insensitive and reckless with his penchant to fire people from their jobs. Since President Bio came to power three months ago, he has sacked hundreds of Sierra Leoneans from their jobs, including ambassadors, diplomats, ministers, their deputies, heads of public institutions and parastatals and even Regent chiefs. The President is being accused of running his government like a junta.
But some other Sierra Leoneans on social media seem to be impressed with President Bio military-styled attitude not to waste time to fire any public official found wanting in his or her job. They are lauding the President for being the kind of disciplinarian the country needs to be straightened out.  They seem to be fascinated with the impression that President Bio will not be merciful to any of his officials who makes major mistakes.
This is the second official he appointed that President Bio has fired without any hesitation. Last month, the Secretary to the President, Dr. Dennis Vandi, was fired after he sent out a memo to the Financial Secretary ( Also leaked ) stating the President Bio had directed the suspension of the Finance Acts of 2016, 2017 and 2018, WHICH WAS A TREASONOUS ACT BY THE PRESIDENT, if it had been true. State House issued a denial and a few days later, Dr. Dennis Vandi was relieved off his job by President Bio.
It would appear that drama of the most interesting kind is about to be unleashed on the nation as Lawyer Charles Margai, not known as a man sparing of words and explanations , will be expected to soon take to the media to explain his own side of the story, which could be juicy , and controversial, as usual.