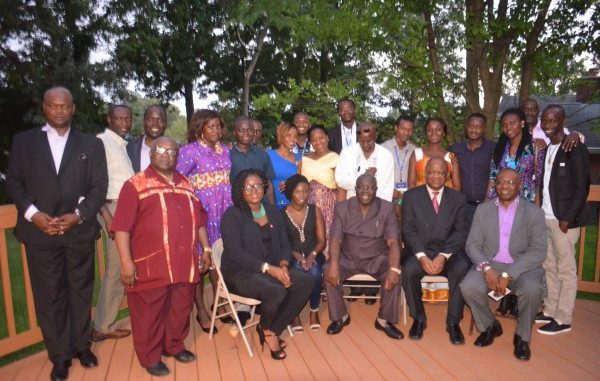 By Pasco Temple :
At a dinner and Reception at his 4821 Colorado Avenue residence, thirteen (13) Sierra Leonean young Leaders who are now "Mandela Young Fellows" were not only treated as Ambassadors of Sierra Leone by Ambassador Bockari Kortu Stevens the Chief of Mission and staff of the Embassy of Sierra Leone, but were also truly encouraged to practically implement their knowledge gained in a bid to impact improvement in their respective discipline.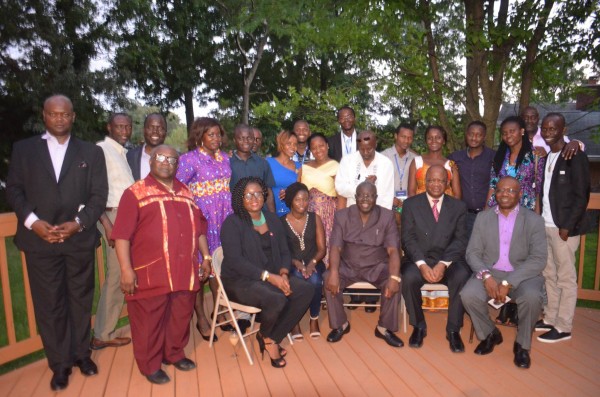 In his welcome address on Tuesday August 2, 2016, the Chief of Mission expressed his delight at the delegation which he described as "young -entrepreneurs".
He apprised them of his work as an Ambassador and said "hosting you is part of my job.

"It is my duty to not only facilitate your programs and activities where and when necessary, but to also accord you the deserved dignity and respect." Said Amb. Stevens. Adding, I am proud that you are able to go through such a keen competition and be among the chosen few.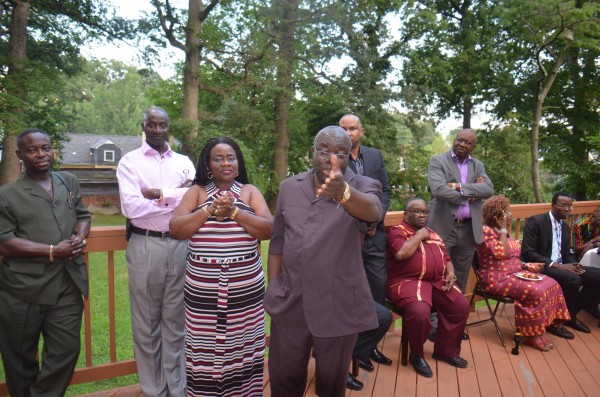 "On behalf of President Ernest Bai Koroma, the Government and people of Sierra Leone, Welcome and congratulations." Said Amb. Stevens.
Speaking on behalf of his colleagues, Mr. Abdul Fonti Kabia thanked Amb. Stevens for hosting them and gave a thorough insight of the program, Application and selection process. He described the process as "rigorous and very competitive".

According to him, Young African Leaders Initiative (YALI) or Mandela Washington Fellowship for Young African Leaders was supervised by the States Department, but now being spearheaded by the United States President Barack Obama and it has been ongoing annually.
"In recent years (2014&2015), five hundred Africans benefited from forty-nine countries.
"This year, one thousand (1000) participants between the ages of twenty – one (21) and thirty-five (35) were drawn from forty thousand (40,000) applicants from Forty -Nine (49) African countries.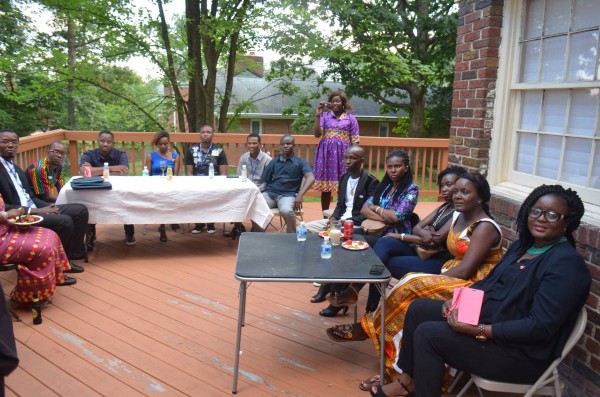 In Sierra Leone, Four Hundred of us applied and only thirteen of us were successful.
One Thousand (1,000) outstanding young leaders from Sub-Saharan Africa including Sierra Leone sharpened our skills at various United States higher education institutions with support for professional development after returning home.
"We benefited from leadership and skills development in one of three tracks: Public Management Business and Entrepreneurship, Civic Leadership and Energy.
We also had the opportunity to do a follow up on academic and leadership skills followed by Professional Development Experience with U.S. businesses, civil society organizations and public agencies.

According to Mr. Abdul Fonti Kabia "We were deployed in various universities in the united states.
Mr. Abdul Fonti Kabia was deployed at a University in Manhattan, New York, Mr. Mohamed Bah -Virginia Polytechnic Institute and state University, Ms. Abibatu Michaela Conteh – University of New Brunswick, New Jersey, Mr. Dominique Andrew Bajala – Kansas State University, Ms. Asmaa James Kamara – Virginia Commonwealth University, Ms. Bridget Osho -University of Massachusetts, Mr. Ansumana Bangura – Portland State University, Mr. Suleiman Jalloh-University of Illinois, Urbana, Champaign, Mr. Alhaji Barrie-University of Minnesota, Ms. Jaka Kabba- University of Delaware, Mr. Cyril recruited from Guinea -University of California and Ms. L. Bah University of California.

They were trained in various fields including Education, Agriculture, Governance, Health, Gender, Anti -Corruption, Diplomacy and volunteerism
He thanked the United States Government for the provision and recalled their orientation in Freetown, wherein United States Ambassador to Sierra Leone John Hoover admonished them to be proud of themselves and make good use of the opportunity.