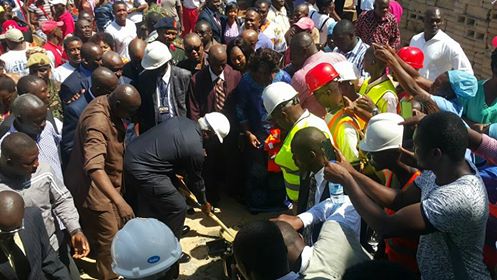 By State House Communication Unit
As part of government's health sector reform, President Ernest Bai Koroma on Wednesday November 2, 2016 turned the sod for the construction of three ultra-modern tertiary hospitals in the Western Area, including Waterloo, Lumley and Bambara Town respectively. The project is funded by the Kuwaiti Government in collaboration with the Government of Sierra Leone.
During the groundbreaking ceremony, President Koroma told the three communities that development is a gradual process that does not happen overnight. He said it took considerable time for countries today referred to as developed countries to reach that height. Programmes like this, the president emphasized, have not been unusual to his government.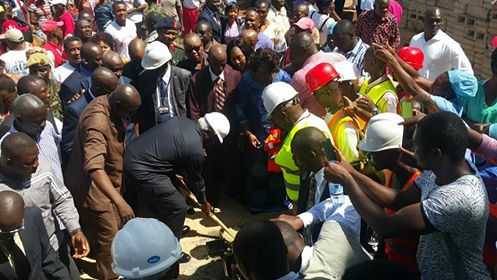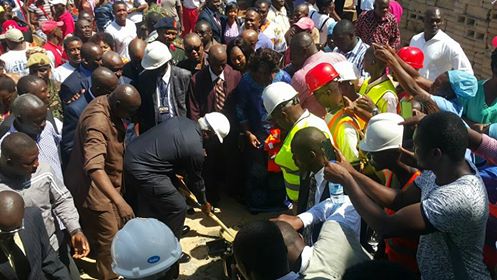 "We had been doing things like this when Ebola struck and brought everything to a standstill," he told the cheering communities, reminding them that November 7th will mark one year since it was declared Ebola free. The Ebola consequences and effects are still ranging but as a caring government President Koroma said "we shall continue to provide you the services as that was the mandate you gave to us." He said service delivery is paramount to his government and hence the introduction of the Free Healthcare system which resulted to saving many lives in the country.
To show that his government is people-centred and remains committed, the Head of State highlighted among other things, the achievements of his government which included the provision of electricity supply, road construction, water supply, maintenance of peace and stability as well as the introduction of the Free Healthcare initiative over the past eight years. With conviction, he said, the All People's Congress (APC) among other political organizations only has the boldness to move this country forward, and come the next ten years the party will continue to do more until Sierra Leone reaches the apex of development.
Briefly talking on the country's economic situation, the president called on all to remain resilient and be confident that very shortly things would turn around. He said the economic hardship is not just about Sierra Leone, it is affecting the world over and it is not by anybody's making. Ours, he said, was caused by the twin shocks of the Ebola outbreak and the considerable fall in iron ore prices. But with all this, he remarked, Sierra Leone was considered one of the best in the sub-region and even in the world for its development strides.
After demonstrating the designs of the ultra-modern hospitals in the three communities – Macauley Street, Lumley and Waterloo by IDEAS Limited architects, the Chief Executive called on the community people to provide effective coordination and monitoring mechanisms to avoid stealing of materials meant for the project. He noted that with proper monitoring, the 100 beds hospitals for Waterloo, 60 beds for Macauley Street and 85 beds for Lumley will last to serve generations yet unborn.