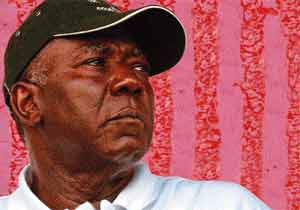 Monday August 2, 2004 12:20 PM(EST)
President Ahmad Tejan Kabbah has reshuffled his cabinet , as exclusively reported to COCORIOKO this morning by reliable sources from Freetown . But from reports so far received, the reshuffle falls drastically short of what the nation would expect.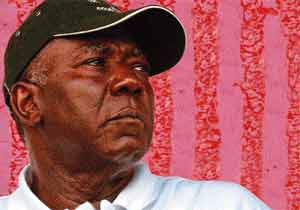 KABBAH : SACRED COWS IN HIS GOVERNMENT
Two new senior Ministers were appointed. The new Minister of Health and Sanitation is Mrs. Abbator Thomas , while Mr. F.M.Carew becomes the new Attorney General and Minister of Justice . A new post , Deputy Minister of Agriculture has been created and the man who fills that position is J.A.Karim Sesay. As the information stands at this time, only two minister faced the shake-up—-Agnes Taylor-Lewis of the Health Ministry and former Justice Minister Eke Halloway.
This token reshuffle will only add vim to the national disenchantment with President Kabbah over the quality of some of the people he has in the cabinet. Unless the President moves on to make many more desirable changes, today's reshuffle will be looked at as just another mere window-dressing by a President who holds certain inferior-quality ministers in esteem because of cronyism while there is an outcry in the nation for them to be removed..
One of the Ministries that Sierra Leoneans are complaining about is FINANCE. Many people think little about the capabilities of the incumbent, Mr. J.B.Dauda . Freetown newspapers and members of the public have been calling for Dauda's removal for years , because they feel that  he does not have the training and orientation for such a delicate job. One -third of Kabbah's ministers, apart from Dauda, also need to be changed and people have not been hiding their frustration with these officials.
As it has now turned out, it is President Kabbah who has sacred cows after all.