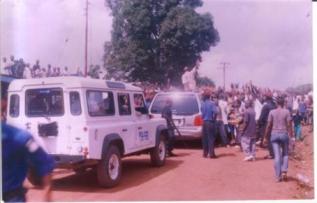 We the Friends of Solomon Berewa UK hereby state that we have heard and learnt with utter shock and dismay about the politically-unhealthy incident during the weekend of the 13th November 2005 in Bo Town (southern Sierra Leone) in which Vice President Solomon Berewa's motorcade was ambushed and blocked by some alleged riotous Charles-Margai supporters and/or thugs in an out-of-town bush road, following an unsuccessful Meeting and Prize-giving Ceremony of  "Christ The King College Old Boys Association (COBA)".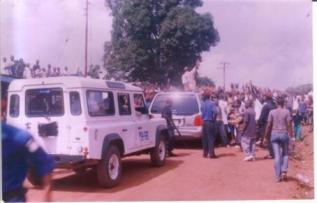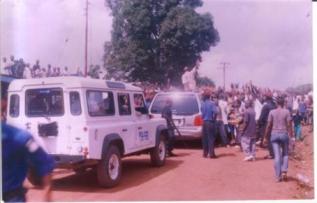 CHARLES MARGAI WAVING TO HIS SUPPORTERS FROM TOP OF HIS SUV BEFORE THE CLASH
In response to the foregoing incident and the resulting acts of public disorder in the city of Bo, we the Friends of Solomon Berewa?UK  hereby issue the following PUBLIC STATEMENT:
THAT we condemn in unambiguous terms such unlawful acts of public violence and riotousness which are not only contrary to the spirit of Christ which was meant to have been celebrated at the COBA Meeting and Prize-giving Ceremony of the school but also in contravention of the spirit behind the hard-earned peace Sierra Leoneans have achieved so far after ten years of indiscriminate killing and wanton destruction of the country by civil war.
THAT we remind Mr Charles Margai and his People's Movement for Democratic Change (PMDC) cohorts that Sierra Leone is now a democratic republican state and therefore that political leadership of our country is not a matter of right of birth or some other irrational privilege in pursuance of which one should resort to any kind of extreme measures or anomic violence that could undermine national peace and security of our people.
THAT we also remind Mr Charles Margai who is now in the firm embrace of the Ernest-Koroma faction of the All People's Congress Party (APC) as well as all Charles Margai supporters and/or thugs that political violence is not only anachronistic and atavistic in post-war Sierra Leone but also in total disharmony with the great expectation from the international community and the United Nations of all Sierra Leoneans.
THAT we register our unalloyed support for Vice President Solomon Ekuma Berewa as a gentleman of peace and a leader with wisdom and vision and to commend the peaceful way he handled the entire disruptive incident in Bo.
THAT by copy of this 

STATEMENT we the Friends of Solomon Berewa?UK shall appeal to Prime Minister Tony Blair of the United Kingdom, President George Bush of the United States, President Obassanjo of Nigeria, President Thabo Mbeki of South Africa, Mano River Union (MRU), ECOWAS, the African Union (AU), the European Union (EU) and the United Nations (UN) to prevail upon Mr Charles Margai and his supporters and political associates and allies to spare the already war-weary and suffering masses of Sierra Leone from another round of political violence that may threaten or undermine the hard-earned peace of our country, a peace no doubt sponsored by the goodwill of the international community.
We conclude this STATEMENT with a general appeal to all Sierra Leonean brothers and sisters that in the new democratic dispensation we have, let us all be resolved to put violence behind us. In our search for new leadership and new positive direction for development of Sierra Leone, let the men and women with the wherewithal to make our country develop be given the real democratic opportunity to lead in an atmosphere of self-respect, mutual respect, rule of law and above all peace and love for everyone. The life and well-being of every Sierra Leonean matters to us most. God bless.
  Sgd:  Friends of Solomon Berewa UK.