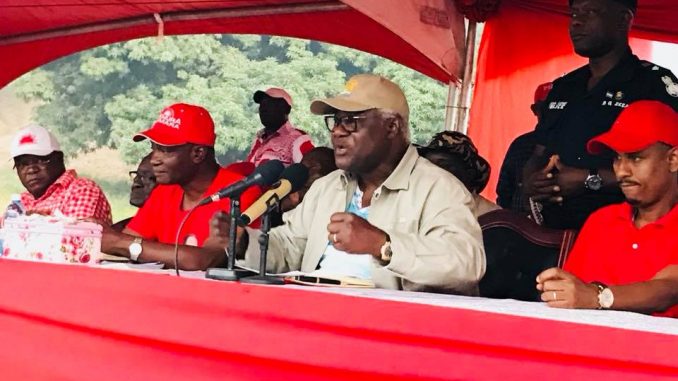 By State House Communication Unit
President Dr Ernest Bai Koroma on Sunday 31st December said that no other political party will be able to develop Koinadugu district more than the All People's Congress (APC). He made this statement during the penultimate leg of his nationwide 'thank you' tour in Kabala where he thanked the people for giving him the opportunity to serve as president for two consecutive terms as well as the support provided to his administration for the past ten years.
Addressing a large gathering at the Roman Catholic Primary School field in Kabala, the president said his visit to the district ahead of new year's day has been an annual event and added that both Koinadugu and Falaba have tremendously supported the government and the APC party and promised that even as he prepares to leave office, he will continue to be with the people of Koinadugu. He thanked them for their initiative during the Ebola epidemic which yielded serious dividends in the fight against the disease.
Reminiscing about the state of affairs in the district before 2007, President Koroma stated that health facilities, road infrastructure, business opportunities, agriculture and many other sectors which were in a state of deplorability have now recorded significant improvements over the past ten years. He mentioned the Free health care initiative as a life-saver especially for women and children below five years. He pointed out that Koinadugu has done remarkable work in the presidency and have demonstrated effective collaboration in both party and government activities. He said the APC party has come to make a difference, saying that the work of government is continuous. He cautioned them not to heed to empty promises; "All what they promised were intentions and sugar coated words." The president stated that the development trajectory of the ruling government can be visibly seen in all sectors, noting that his administration is a development oriented government. He assured the people of Koinadugu of government's commitment to the continuity of government programmes and activities citing the ongoing Kurubonla and Yiffin road construction projects, University of Makeni Koinadugu campus, agriculture among several uncompleted development programmes within the district.
President Koroma maintained that the de-amalgamation process was undertaken to foster development programmes in every district and chiefdom. He informed the people of Koinadugu and Falaba that all the districts he has visited in his 'thank you' tour had shown strong commitment to the APC party.
The president used the occasion to present the APC presidential candidate Dr Samura Matthew Wilson Kamara and his running mate Hon. Chernoh Ramadan Maju Bah to the people, and assured that they have what it takes to continue with the transformational trajectory of the country and hit the ground running after winning the March 2018 elections. "The APC has more than enough to run the country and we will continue to win elections in this country," adding that governance is not rotational but based on performance.