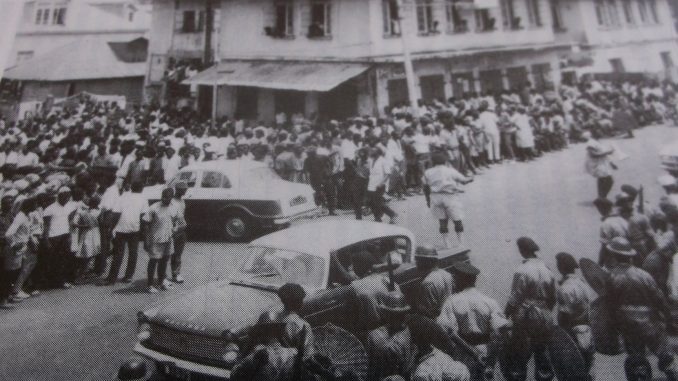 FLASHBACK :  Tuesday March 21, 1967. Despondent party members & supporters of the All Peoples Congress gathered outside the party's headquarters after Brigadier Lansana had aborted the swearing-in ceremony of Siaka Stevens as Prime Minister and put him and the Governor-General under house arrest.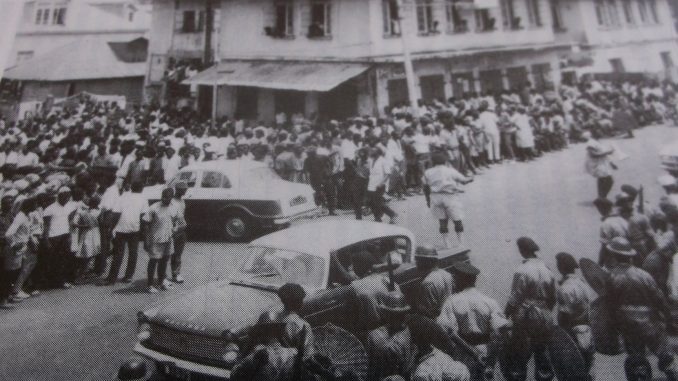 PHOTO CREDIT : JERE THOMAS
Sierra Leoneans give their recollections about that day :
Eva Roberts As a child of Liverpool Street on that day, is is etched in my memory. It was lights out and no one at the window.
Jeffrey Coker I was there too. Foot watin ar eat cam see speed for fen ose road. Ran from state house to Montague st. nonstop. Would have broken Carl Lewis's record.
Vivian Stack-davies Wonderful That was a memorable day I was at work at the then SLTV studios getting ready for State House when martial law was declared. What a shock.Thanks for memory.
Malcolm Coomber I was a kid then but can remember these words "I swear to my mother's breast, there shall be bloodshed".