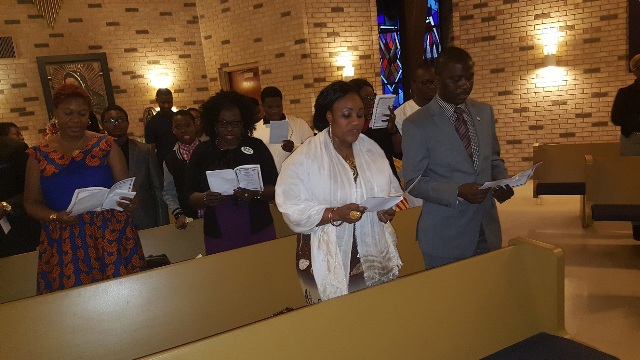 By Sanpha Sesay ( Texas Chief )

Three Ordained Pastors; Pastor Bernard Rockson, Pastor Simpson Campbell, and Pastor Sarah Samura on Sunday, November 27, gave their earnest advice to the Sierra Leonean community in Dallas about the importance of togetherness and how unity can make us better. The three pastors made their proclamation at the end of year thanksgiving service for Tegloma Dallas chapter at Lutheran Church in Dallas.
The theme of the service, "Thankfulness, Peace and Unity" attracts many people from all walks of life.  People from different faith including Muslims also attended the service. It was a thanksgiving prayers expressing gratitude to God for everything that happens to the community during the year, Pastor Fredica Kiawu, the program facilitator highlighted.
The turnout for this end of year thanksgiving was a little bit lower than the previous years. Observers say that the community here at the Dallas Fort Worth seems to be sharply polarized in these days as many organizations formed.  Nonetheless, the service preachers in their sermons admonished worshipers that the Bible gave emphasis that walking in unity is better for the community. Therefore, warm fellowship in a diverse way within the community could be better achieving truly meaningful social change.
Every end of year in Tegloma thanksgiving service, the Lutheran Church used to be jam-packed but, it is disappointing however, to see this year the number of membership decreases dramatically, Pastor Sarah reechoed. She further expressed the necessity of giving thanks to God by rejoicing and be full of hope whether it is adverse or biennial.  Pastor Sarah Samura went on to explain the value of Tegloma emphasizing that that the organization is a nonpartisan and can accommodate every tribe or faith from Sierra Leone.
Many of us want our community to make a consensus decision to agree on our country's priority problems to be resolved but, that is not possible when we have different factions to support different goals. Only when we consider our common values, have common goals and agendas, accepting togetherness and belonging, will let us achieve our cohesive goals, Pastor Bernard Rockson, a Ghanaian descendant proclaimed.
The thanksgiving services also provided a room for fundraising.  The president of Tegloma Dallas chapter, Ms. Elizabeth Bockarie said that, over the years, the organization has been raising funds to support programs that fighting to ameliorate some social issues that raging our country, Sierra Leone.  This year, our fundraising drive was an exertion by the federation of Tegloma to give scholarships to students who have been deprived of education back home she said.
Last year, Tegloma awarded scholarships worth of $5,000 (five thousand dollars) to a great number of students across the country and has also given support to the homeless in the United States through the Lutheran Church, the president continued.  It is our goal to redouble that effort this year so that more students will realize their dreams and more homeless will be fed in the United States, Ms. Elizabeth M. Bockarie concluded in her opening address.
The highest contributor for this year's fundraising drive at the thanksgiving service was Dr. Joseph Tejan. The doctor is a well-known orthopedic surgeon in Texas who has been given medical treatment to so many people in the community, an old woman told me.
The service was followed by a meal in the cafeteria, provided free by participating Tegloma members. Both Islamic and Christianity prayers were offered before the dinner. The Texas Chief himself offered the Muslim prayers.