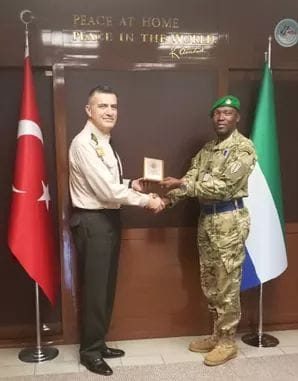 Lieutenant Colonel Sheku Tejan Sesay, a former ADC to former President Dr. Ernest Bai Koroma, one of the finest officers of the Republic of Sierra Leone Armed Forces and a current senior staff at the African Union Commission, has this month of November 2018, been awarded yet another prestigious excellence award; this time from the North Atlantic Treaty Organisation (NATO) Centre of Excellence School known as the Peace Training Centre, located in Turkey.
Our sources disclosed that he was awarded following his studies on "Humanitarian Relief in Disasters" course. We also are informed that he is the first Sierra Leonean officer to have attended such course in this NATO Centre of Excellence School.
It can be recalled that Lt. Col. Sesay was recruited competitively for a top security position at the African Union Headquarters in Addis Ababa where he has been making the country proud with his high military professionalism especially on the various missions he has been assigned to undertake across Africa. We are informed that his excellence has highly impressed his bosses in the less than one year he has served at the AU. This same excellence being displayed at the African Union is what was displayed by Sesay at the NATO School in Europe this month during his course.
However, the malicious nature of the current SLPP/Bio Government of Sierra Leone for any security officer who once closely served the former president, has not spared this fine officer. He has been hounded and molested in a rather senseless manner by the Bio Government. Lt. Col Sesay's case, like that of the detained Captain Patrick Kamara, is one of those that have been brought to the attention of strategic persons and entities around the world including the British Government.
An extract of the recent petition handed over to the British Prime Minister Rt. Hon. Theresa May by Concerned Sierra Leoneans in the United Kingdom, has been shown to this newspaper. It states thus:
As part of ongoing intimidation of military personnel perceived as having been once-loyal to the former president, the current President's government, in June 2018, ordered for malicious correspondence to be sent to the African Union asking for Lt. Col. Sesay to be immediately sent back home. We understand the African Union Headquarters was stunned at the malicious nature of the request which was not honoured. Lt. Col Sesay continues to serve the people of Africa most gallantly. Sierra Leone citizens are stunned at the pettiness and malice of the President Bio government which went as far as trying to recall an upstanding son of Sierra Leone who was doing so well on the international scene.
In a sinister development, so as to avoid suffering the same fate as persons like Captain Kamara, many other members of the former president's security team (both police and military personnel) have gone into hiding in the forests around Sierra Leone or have simply fled the country to unknown destinations. The news that former guards of the former president are in hiding, have not helped to safeguard the peace and tranquillity of Sierra Leone.
Meanwhile, our credible sources inform that the detained Captain Patrick Kamara is another highly professional officer who already holds more than one university degrees and further, is actually enrolled and studying for his Ph.D degree on a long distance course with an international university. His prolonged and inexplicable detention has affected his studies which should see him ultimately emerge as the first PhD degree holder in the entire history of the RSLAF. If allowed to exhibit his professionalism, it is clear from those who know him that Kamara, a son of Yoni chiefdom in Tonkolili District, will also be just like Lt. Col. S.T. Sesay in flying the Sierra Leone flag high. However, instead of being allowed to serve his country, Captain Patrick Kamara and two other officers, WO1 Conteh and WO2 Jalloh, continue to be held in cells and kept like wild animals in a cage under horrific conditions by the current SLPP/Bio regime.