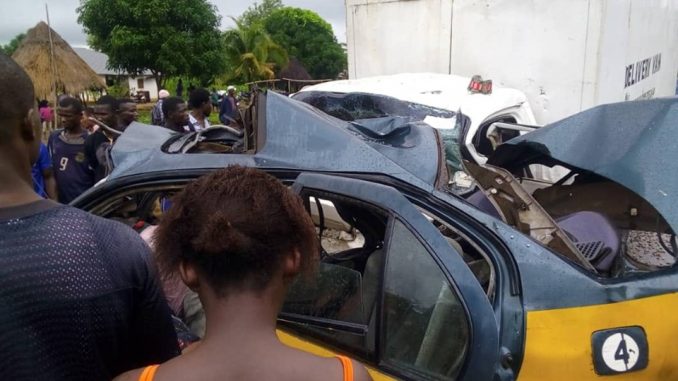 Nine people are confirmed dead from a gruesome road accident on the Port Loko-Freetown highway on Wednesday night. Seven people died on the spot and the other too succumbed to their injuries at the Port Loko Hospital where all the victims were taken.
According to reports received by COCORIOKO, a taxi cab heading for Freetown crashed into a delivery truck heading for Kambia after a back tire-blow up on the taxi which forced it to lose control and crash into the truck.
All the passengers in the cab , including the driver , lost their lives while the truck driver suffered a broken foot.
Overspeeding contributed to the accident.
The bodies of the deceased were deposited at the Port Loko Hospital and uptill yesterday morning some of the victims had not been identified.
SEE THE POLICE REPORT BELOW
___________________________________________
THE POLICE REPORT ( PUBLISHED UNEDITED )
Be Informed That On Today's Date 28/8/19 At About 14:00 hours A fatal  Accident Occurred Along The Port Loko -Kambia Highway At A Village Called 4 Mile Which Involved Vehicles With Registration No's Taxi ANK 116 & Delivery Vehicle ANX 556,
The Delivery Vehicle Was Coming From Freetown Heading To Samu Chiefdom In Kambia District and The Taxi Was Coming From Bamoi Luma To Freetown.

According to Sources, The Vehicles Were Coming From Port Loko And Kambia Direction.

To Be Specific, the taxi was having seven 7 People On boarded From Bamoi Luma To Free town. Upon Intelligence Gathered, The Back Tire Of The Taxi Got Burst And It Was On The Struggle When Both Vehicle Collided Wherein Six Passengers Including The Driver Made It To Be Seven People Who Lost Their Lives In The Taxi And Those Who We're In The Delivery Vehicle Were Seriously Injured.
Upon Information , The Traffic Department Of The Port Loko Police Department Immediately Arrived At The Scene. Deceased And Injured Were Taken To The Port Loko Police Station.