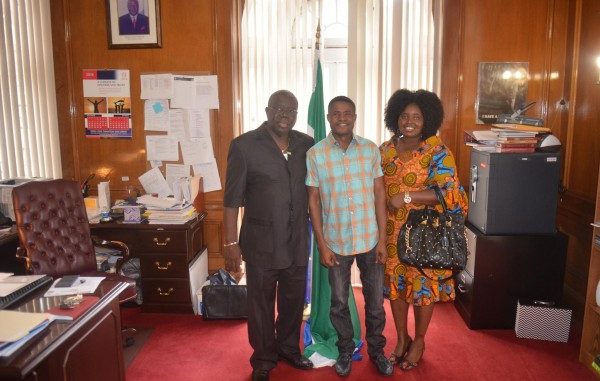 Led by Hon. Dr. Sylvia Olayinka Blyden, a three man delegation including Mr. Yusuf Kabbah President, Sierra Leone Ebola Survivors Association and Mr. Daddy Hassan Kamara Ebola Orphans Coordinator and spokesperson Sierra Leone Ebola Survivors Association arrived Friday September 30th 2016, Saturday October 1st and Sunday October 2nd 2016 respectively on a one week tour, to not only appreciate the efforts of contributors in the USA who backed the fight in various ways against Ebola, but also to explicitly share their experiences and highlight their existing challenges with United States Agency for International Development (USAID) Global Health Team and its African Bureau.

They will also appreciate Broad/Harvard University and share their stories in Boston Massachusetts. It is important to note that Harvard did the sequencing of the virus.

In a brief chat with Amr. Bockari Kortu Stevens at his 1701 19th Street NW chancery on Friday September 30th, 2016, Mr. Yusuf Kabbah thanked God Almighty for spearing his life and President Dr. Ernest Bai Koroma for his resolve in the fight to successfully combat Ebola.

"I am the only Survivor in my family: I lost all other members of my family including sisters, brothers, uncles, nephews and my uncle who was taking care of me." Said Yusuf Kabbah.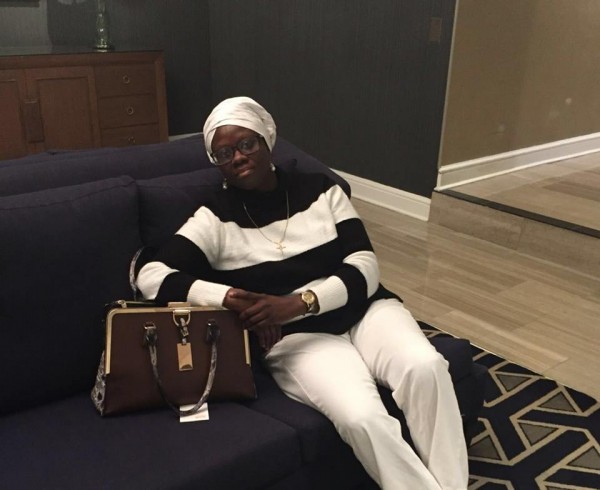 "I am here as a representative of the Ebola survivors in the Company of Dr. Sylvia Olayinka Blyden the Hon. Minister of Social Welfare, Gender and Children's Affairs to thank members of the international community, our Sierra Leonean Brothers and Sisters residing in this part of the world and share our experiences with all those who supported Dr. Ernest Bai Koroma our President during the time Ebola was killing our people, and destroying our infrastructure. We will also use the occasion to explain our present challenges." Said Mr. Kabbah. Adding,"We want you all to know that "we are now in the post Ebola era: we are now faced with social and economic challenges. "When an individual is infected, his or her household is immediately condemned. His personal stuff (Clothes, furniture (beds, tables and chairs) are also condemned and are subject to consumption by fire.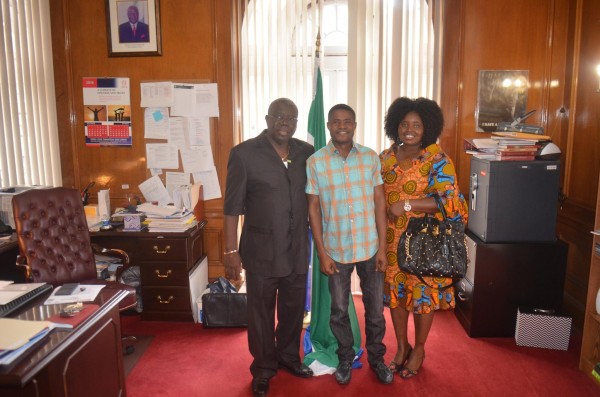 "After being discharged from the hospital, the bed you occupied and everything you used prior and after being hospitalized are immediately destroyed.
"We also need your help to improve our health systems with infrastructural development and human capacity building.

"In as much as the Government through the Ministry of Social Welfare, Gender and Children's Affairs gives us money and packages to resettle, they are not enough. Should another outbreak similar to Ebola, breaks out in Sierra Leone, we should by now be in a position to combat it.

"So, we are here to tell our stories and advocate for assistance and support for thousands of us (Ebola Survivors).
According to the schedule, the delegation will be joined by officials of the United States Embassy in Freetown and visit The Center for Disease Control and Prevention (CDC) and USAID.

On Monday October 3, 2016, together with their Washington counterparts, they will visit the White House and hold meetings with National Science and Technology Council (NSC and OSTP).

On Tuesday October 4th, 2016 they will meet with USAID Ebola Task Force in a round table discussion, meet with USAID Deputy Administrator and meet with some officials of Department of State.

On Wednesday October 5th, 2016 she and her delegation will tour the white House, meet with of officials of National Institute of Health (NIH) in Washington DC and depart for Atlanta.

On Thursday October 6th, 2016 Dr. Sylvia Olayinka Blyden and her delegation will meet with officials of the CDC at Atlanta and return on Friday.
Late on Friday 7th October,2016 Dr. Sylvia Olayinka Blyden and delegation will meet and greet leaders of the Sierra Leonean Communities, Heads of Organizations, friends of Sierra Leone, Ebola task Force, Community groups and clergies at the Ambassador's residence.