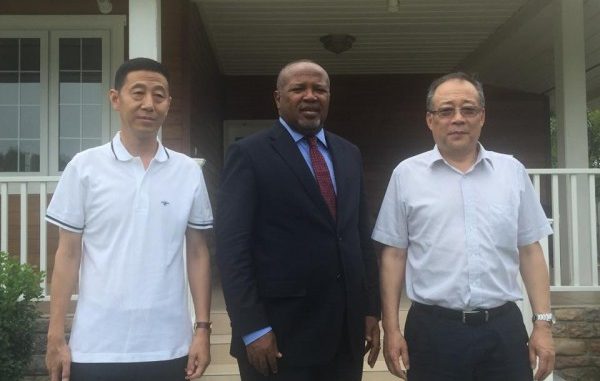 Sierra Leone's Ambassador to China has assured of his continued efforts in seeking good Chinese investments and encouraging credible investors to discover the huge untapped potentials of his country.
Ambassador Alimamy P. Koroma spoke on July 12th, 2016 in Zhengzhou City, Henan Province where he had arrived on the invitation of the Chairman of Henan Guoji Industry Group Co.Ltd, Mingzheng Xu, as part of efforts in wooing credible Chinese investors as well as lifting the bars of cooperation ties between the two nations.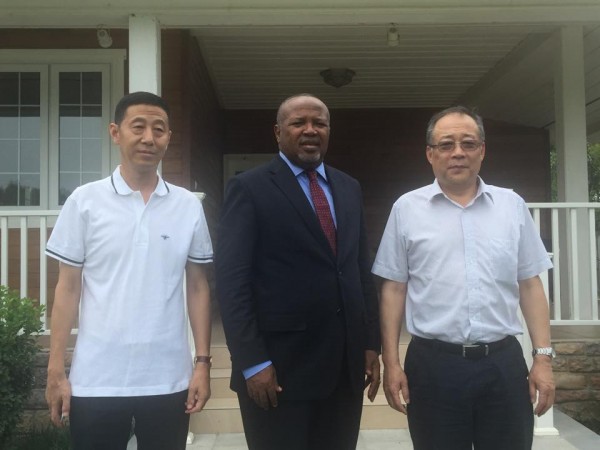 According to Ambassador Koroma, Sierra Leone continues to make her investment climate favorable for investors, assuring that the Government of  Sierra Leone will continue to encourage investment opportunities in all sectors.
He said, he was pleased that Guoji arrived in Sierra Leone during the country's challenging periods but has ever continued to grow, assuring that "if we have good investors like Guoji, we should give them support to do more and that is our position as a government."
Mingzheng Xu, Chairman, Henan Guoji Industry Group Co.Ltd, thanked the Sierra Leone Government for the support it continues to provide them, saying they look forward to expanding on their operations in the coming years.
Mingzheng Xu briefed the Ambassador on pending activities they shall be undertaking in Sierra Leone, in close collaboration with the embassy in China.
During his visit, Ambassador Koroma visited the Guoji Printing and Packaging Industrial Park; Guoji Central Kitchen Industrial Park and Real Estates  developed and managed by Guoji in central Zhengzhou City.
Ambassador Koroma also met with, and had fruitful discussions with Zhang Xusheng, Director, Henan Provincial Department of Commerce, and officials from the China Development Bank, Henan Branch, including its Vice President, Li Gang, Director, International Cooperation Department, Liu, and Luo Wentao, Director, 4th Dept. for Customers, Henan Branch.
Key issues discussed during the meetings were; expansion of Guoji Industry and Trade Zone in Sierra Leone into an International Industrial Park, leading a delegation of investors to Sierra Leone from Henan and undertaking affordable housing project development formed part of the discussions.
Other areas of investment were also elaborated on, by Ambassador Koroma.
Henan Guoji Group is a global enterprise with overseas investment, undertaking successful business ventures in a number of countries, such as Sierra Leone, Mozambique, Guinea, and Zambia.
In 2003, Henan Guoji established Guoji Industry and Trade Zone in Sierra Leone, believed to be the largest investment zone in the country. Henan Guoji Industry Group Co.Ltd enjoys the full support of the Henan Provincial Government.

John Baimba Sesay
Information/Press Attaché
Sierra Leone Embassy
People's Republic of China 
—
John Baimba Sesay
Press Attaché
Sierra Leone Embassy
7 Dong Zhi Men Wai Dajie,
Chaoyang District, Beijing
People's Republic of China
100600
*Tel: 0086-15010707051
* Fax:0086-1065323752*TRUST AND LOYALTY ARE OF MORE VALUE TO ME!