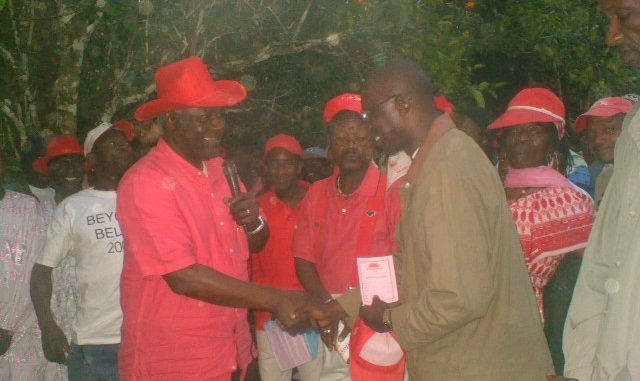 ALFRED ISHMEL SESAY RECEIVES HIS CARD FROM APC LEADER ERNEST KOROMA
By Joseph Kamanda

Monday January 8, 2007

Barely six month away to the much- awaited Presidential and Parliamentary elections, former Sierra Leone People's Party Young General Chairman, Mohamed Osman Sesay, Foday Lady Sesay ( both in Kabala)  and Alfred Kanu Sesay of Ismaia village in the Koinadugu district  on First (1st) of January defected to the opposition All People's Congress party ( APC)  at the Katomba Two Orange plantation Garden in Kabala.

Presenting the APC membership cards to Mohamed Osman Sesay and two others,  the Leader and Presidential candidate of  the APC in the July 28th elections, Hon. Ernest Bai Koroma said; "By virtues of my position as a leader of the APC,  I accept our brothers into the fold of the APC and offer them all the facilities in the party." He said  that Mr. Sesay was a "strong man in the SLPP" but sees all reasons to come over to the APC.  "Therefore I want to welcome him to the party."

Mr. Koroma further stated that the three SLPP men have foreseen  the future of Sierra Leone in the hands of the APC,  thus their decision of coming over to the party can be beneficial to the entire Koinadugu district. He noted  that Foday Lady and his colleagues were tired of hearing news of the unfulfilled promises made by the SLPP government and  that is  why they have bid farewell to the SLPP.
Mr. Koroma  said  that  people are moving from the SLPP because they believe  that in the reformation of the APC and the quality leadership of Hon. Ernest Bai Koroma.

In responses,  one of the defected members,  Mohamed Osman Sesay,  told COCORIOKO.NET that  he  was  disappointed with the leadership of the SLPP for not living up to the expectation of the masses.Sesay , who is of the view that the SLPP has failed, further admited failure on the part of his former party.  "That's why I have made up my mind to come onboard the APC political ban wagon  to make the necessary change. "