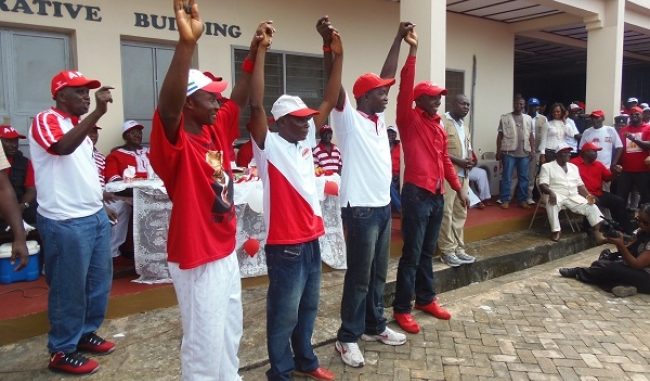 By Abdul R. Bedor Kamara
The All Peoples Congress (APC) party National Youth League on 22nd to 24th October, 2015 will organize a National Youth Conference at the University of Makeni (UNIMAK) auditorium, Makeni on the theme: 'Taking Lessons from the Past and Current State of Affairs of the APC; What Can the Youth Offer to Sustain the APC in Governance?'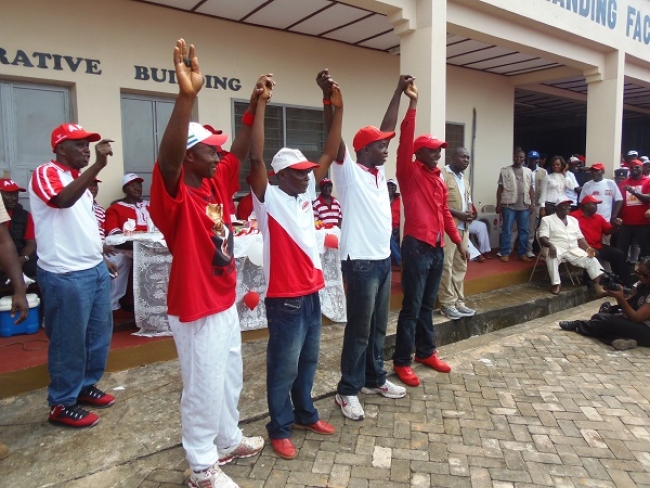 APC National Youth League Secretary General, Comrade Alie Conteh, said that the conference is to create a platform for the youth from Constituency, District, Regional, National and the Diaspora level to come together for a resolution on the sustenance of the party in governance that is part of the APC National Youth League bye-laws. Comrade Alie Sesay informed that the party will soon face a transition and there are several names coming up for the leadership of the party and as such, several youths are likely to take sides.   "As an executive of the National Youth League, we should bring together youth as there is Leadership for now in the party under  His Excellency President Dr. Ernest Bai Koroma whom we have given our loyalty wholly and solely as  we are looking up to him," he said.
He revealed that it is the Constitutional right for everyone to associate but rules and regulations in the APC enshrined in the 1995 party Constitutions don't allow that, hence there is leadership at present and at the end of the conference the youth expects to come out with a concept paper, noting, "we owe our loyalty to President Ernest Bai Koroma as Leader and Chairman of the APC. Let us work together as youth for the sustenance of APC in governance as we youth constitute the greater percentage of the party's support."
Comrade Conteh stated that the APC Leader and Chairman, President Ernest Bai Koroma, will be the key speaker at the conference that will attract other APC members, other political parties, youth among others.
According to Comrade him, the conference will be chaired by the first APC Fourah Bay College Students Union President and APC National Secretary General, Comrade Ambassador Alhaji Foday Osman Yanseneh. Other speakers will include the First Presidential Youth Aid and Former APC National Youth League President, Combrade Yusif Sankoh;  First Secretary General of APC National Youth League, Comrade Foday Bangura now Paramount Chief Alimamy Foro II Tokoh Limba Chiefdom;  President, APC Deputy Leader and Chairman, Comrade Honourable Alhaji Minkailu Mansaray among others will make salient statements.