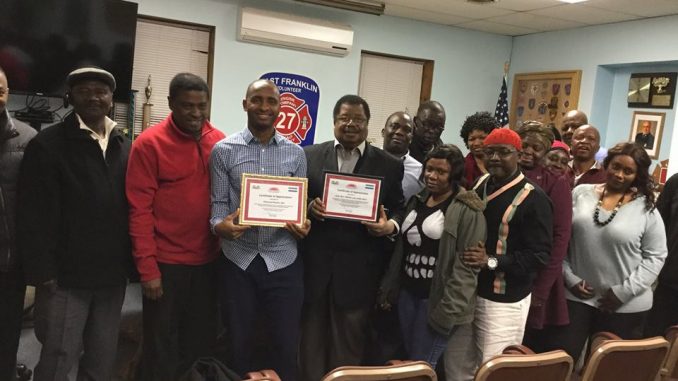 On March 4  2017, the All People's Congress ( APC )  New Jersey Chapter gave the Rev. Leeroy Wilfred Kabs-Kanu  yet another certificate of appreciation, this time for being one of the senior advisers of the party .
It it must be recalled that a month ago, the APC Chapter gave Kabs-Kanu two awards and a medal for his  contributions in the field of Journalism , community development and religious involvement and development. At that time, he was dubbed THE GODFATHER OF THE APC IN NEW JERSEY.
Saturday 's  award was for his contribution as a Senior adviser. This brought to 4 the number of awards of appreciation he have received in the pace of one month.
Yesterday, Rev. Kabs-Kanu said :
"I want to use this opportunity to extend my thanks and appreciation to the entire hierarchy of the APC – USA, APC GEORGIA and APC New Jersey for honoring me recently for my contribution to the party."
"Special thanks to the President of the APC New Jersey Chapter, Hon. Alimamy Turay and his executive and members for their indelible gestures of appreciation to me and to other members working hard to make the Chapter stronger and better. It is a good thing to be appreciated."
Yesterday, Mr. Turay and executive spoke highly of Rev. Kabs-Kanu's  contribution to the New Jersey community in general as a journalist through his  Cocorioko newspaper and also as a diplomat and a religious leader.
Also appreciated yesterday was the Secretary General of the Chapter, Mr. Muctarr Bah, who was highly commended for his contribution to the party.
President AlimamyTuray yesterday took the occasion to commend and thank all the members of the Chapter for what they are doing to help develop the Chapter. He said that his reign has been marked by massive recruitment because he believes that politics is a game of numbers and the putting together of talents to create a better society.
Mr. Turay also said that his tenure was devoted to helping the APC win the forthcoming 2018 Presidential, Legislative and Local Council Elections.
Receiving his award, Rev. Kabs-Kanu  thanked the President , Mr. Alimamy Turay and his executive and the  general membership for appreciating his  efforts. "I promised the entire APC that I will always do my best to help make the party the Prima Donna of Sierra Leone."
The  photos show Rev. Kabs-Kanu and Mr .Bah with their awards  and some members of the Chapter.