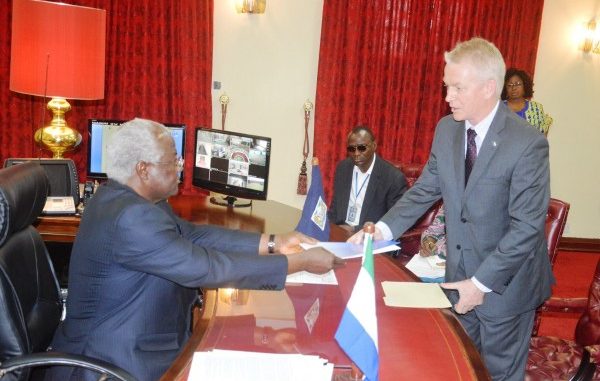 By State House Communications Unit
The head of the European Union Delegation to Sierra Leone Peter Versteeg Monday 9 February handed a formal invitation to President Ernest Bai Koroma to attend a high level conference on Ebola in Brussels slated for 3rd March 2015. The conference will have in attendance the leaders of the three worst affected countries of Guinea, Liberia and Sierra Leone, the African Union (AU), the United Nations (UN) and other development partners.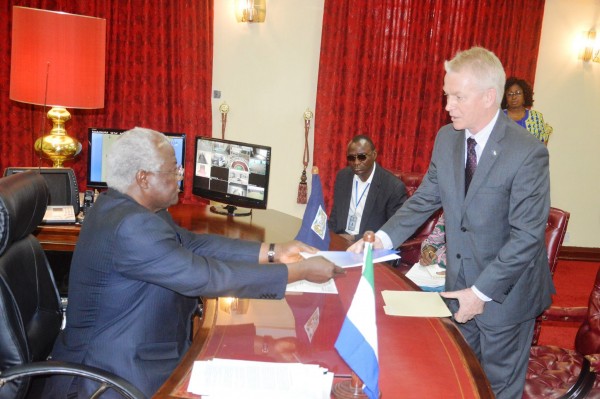 President Koroma acknowledged and expressed appreciation for EU's support in the fight to combat the waning virus. He stated that the proposed meeting is a logical step in the process of taking the country out of the fight into the new engagement towards post Ebola recovery, and added that the situation the country is currently in needs to be evaluated moving forward. He furthered that with the lessons learnt from the outbreak will go a long way in building the health sector and also try to return the economy to normalcy.
The president assured the EU envoy of government's continued collaboration so that the fight will not only be a thing of the past but will be able to restore normalcy, stating that such a conference will lay the basis. "Sierra Leone will definitely participate" and promised to revert to the envoy immediately after looking at the proposal of the conference.
Peter Versteeg in his opening remarks congratulated President Koroma on his determination to addressing the Ebola outbreak, adding that his resolve has significantly yielded tremendous gains so far. He also stated that the conference will primarily look at the achievements made, look forward to assess the critical needs that the EU can help with as well as look into the post Ebola recovery plan. Ambassador Versteeg also asked President Koroma to co-chair the event.