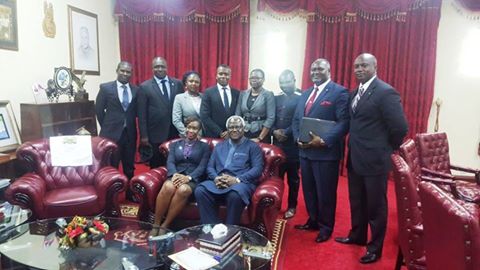 By State House Communication Unit
President Dr Ernest Bai Koroma has urged the newly elected executive of the Sierra Leone Bar Association (SLBA) to be at liberty to speak on national issues as well as work as partners in development. He made this call during a courtesy visit on him at State House today August 2, 2016. According to the Attorney General and Minister of Justice, Joseph F. Kamara, who led the delegation, the purpose of their visit is to introduce the newly elected members to the President as tradition demands.
Congratulating the newly-elected executive, President Koroma pointed out that government does not expect the Bar Association to speak for the government but rather to work collaboratively in developing the nation, recalling the collaborative efforts in defeating the unprecedented Ebola outbreak. He assured the association of government's support in strengthening not only the Bar, but also the legal profession and the judiciary as a whole.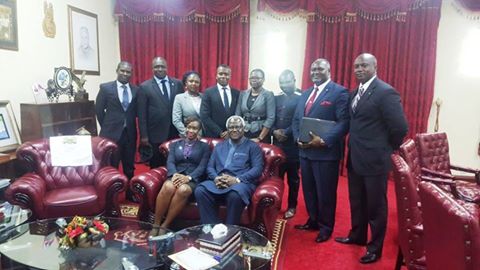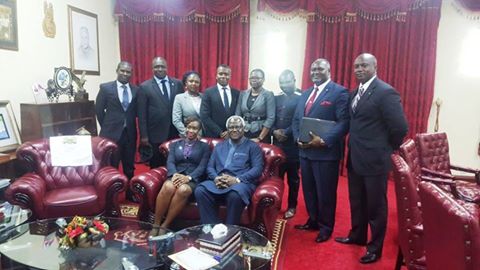 The president also reiterated his commitment in improving the conditions of service of the judiciary and access to justice in the country, stating that there are now serving magistrates in all districts nationwide. Commenting on the refurbishment and improvement of court rooms, President Koroma proposed that the new executive should come up with a new design for a new court building as a way of moving the court activities from the central business district.
President of the Bar Association, Mrs. Rhoda Suffian Kargbo Nuni said the SLBA will continue to be a credible non-state actor on national issues as well as working with government to recover from the twin shocks of the Ebola outbreak and the fall in iron ore prices in the world market. She thanked President Koroma for exhibiting exemplary leadership in defeating the horrific Ebola virus. She also reported of the fruitful relations between SLBA and the Legal Aid Board and disclosed the resumption of the law reporting project that will enhance the rule of law, peace, and stability among others.
Lawyer Nuni also expressed appreciation for the improvement of the conditions of service in the judiciary and upholding commitment to providing a piece of land for the construction of the association's secretariat.
Secretary General of the Association, Julian Cole, said the dispensation of justice has improved significantly under this government. He also acknowledged government's commitment to giving confidence to legal practitioners and improving the conditions of service of the judiciary, and furthered that the SLBA will continue to partner with government, although they will not lose sight to hold government accountable on issues of national importance.
The Sierra Leone Bar Association being the oldest Bar association in the Sub-Saharan Africa, has played and continue to play a pivotal role in advocating for the upholding of the rule of law, enhancing the democratic dispensation and accessing justice in Sierra Leone.