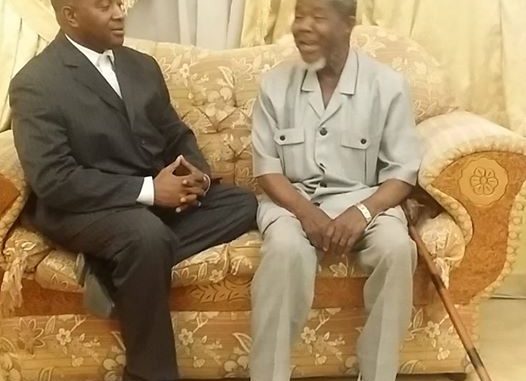 The Sierra Leone Embassy and the Sierra Leone Community in the Kingdom of Saudi Arabia received with utter shock and dismay the death of Alhaji Mohamed Mustapha Sowa, an employee of the Embassy after a protracted illness.
He died at the Saudi German Hospital in the capital Riyadh on Sunday, 22nd May, 2016. Until his death, he was the Assistant Liaison Officer in the Embassy. The late Mustapha Sowa demonstrated dedication, honesty and exuberance to all duties assigned to him since he was officially employed in 2007. Before that, he served the Mission in different capacities, particularly during the Muslim pilgrimage (Hajj) for some years before he officially gained employment.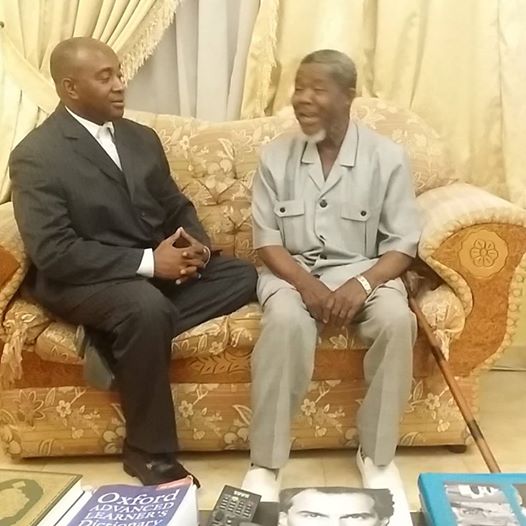 PRESS ATTACHE JALLOH IN BLACK SUIT AND THE LATE SOWA
Sierra Leone's Ambassador who is currently on official assignment out of Riyadh says the late man was a devoted worker who was even ready to serve the Mission whilst in sick bed. Ambassador Kargbo is expected to cut short his visit following the death of his staff.
A Sierra Leonean who had known him for many years says, in terms of national service and generosity to his compatriots in particular and to other African nationals in general, he was second to none.
He recalls from the late 1980's until the mid1990's, through some of his benevolent Saudi connections, Mr. Sowa helped many Sierra Leoneans to cargo their household goods in containers to Sierra Leone free of charge.
Through his philanthropist Saudis, he adds, Mr. Sowa had been generously giving out food stuff and many miscellaneous items to Sierra Leoneans of all walks of life.
He will be remembered for his invaluable services not only to the Sierra Leone community, but other West African nationals as well. He will be sorely missed by all.
Both the Diplomatic and Local staff of the Embassy share this painful moment. We extend our sincere and heartfelt condolences to the family of the late Mustapha Sowa. We pray that the Almighty forgive him all his sins and make 'Janatul Firdaus' his final abode.
Funeral arrangements will be announced in due course.
A few days before his demise, I sat down with him in my office and had an interview with him. Below are some of the photos.