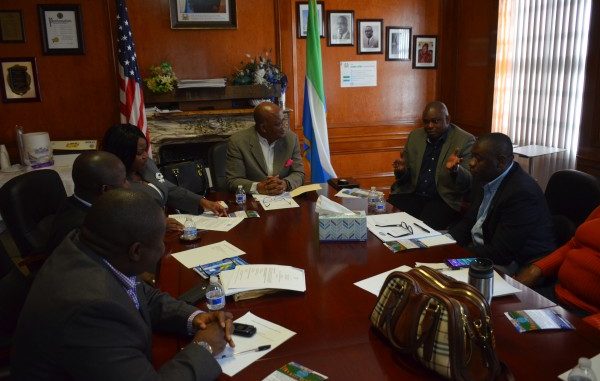 A team of four senior officials of the National Social Security and Insurance Trust (NASSIT) and HFC Mortgage and Savings (SL) Plc, have on Friday October 9, 2015 arrived in the United States of America to encourage Diaspora participation with the NASSIT Scheme and market products of the two institutions. The four officials include Mr. Amara O. Kuyateh who is the Deputy Director General (NASSIT) and Joe Hassan Kalokoh who is the Head of Research, Planning and Actuarial Division (NASSIT) together with Mr. Ahmed Bakarr Kamara who is the Managing Director of HFC Mortgage and Savings (SL) Ltd and Yusuf Abdul Silla, Director of Credit Management (HFC). Briefing officials of the Embassy of Sierra Leone of their mission at the 1701 19th Street in Washington DC on Saturday 10 October 2015, the head of delegation Mr. Amara O. Kuyateh said, the team is in the USA to promote the idea of Diaspora participation in their products. According to him, NASSIT is a solid institution that contributes largely to the economic development of Sierra Leone and it is an institution for every Sierra Leonean both locally and in the Diaspora.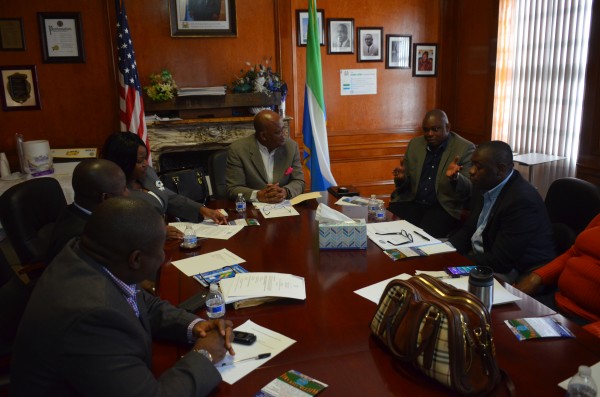 The briefing of the officials
Adding to this, Mr. Joe Hassan Kalokoh said  their visit is consistent with one of their strategic objectives as an institution and it is in fulfilment of a recent  resolution promoted by the ILO and ISSA on migrant workers. Mr. Kalokoh stressed that Sierra Leoneans working overseas equally have the right to social protection and "if circumstances attempts to deprive them of this right because of disparity in labor laws in their respective countries, it is the responsibility of their country of origin to improvise strategies that could ensure their adequate social security coverage."  Mr. Kalokoh concluded by saying that "NASSIT is taking the lead to encouraging Diaspora participation in their domestic pensions scheme."
Group photo of embassy staff and visiting officials
On the HFC side, Mr. Ahmed Bakarr Kamara the Managing Director said it is their passion to expand market for their housing products and that the Diaspora is a strategic market for their products. He explained that their institution's strategic objective is to help Sierra Leoneans own decent houses by providing them with the funds required for that.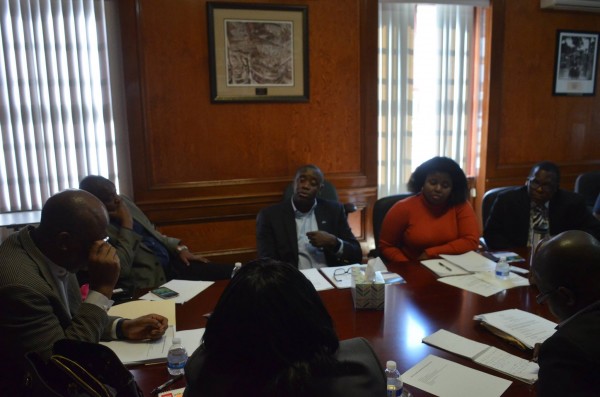 Earlier, Ambassador Alhaji Ibrahim S. Conteh, Deputy Chief of Mission welcomed the delegation and appraised them of preparations regarding their visit.
He said Sierra Leoneans have been anxiously waiting for them for full engagements.  The first public meeting took place on Saturday, 10thOctober, 2015.