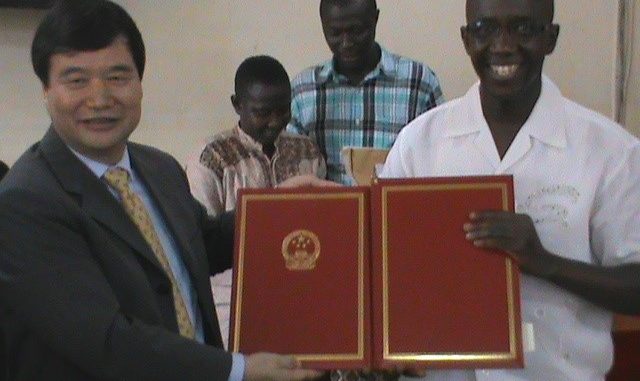 By Kadrie Koroma
The National Health and Family Planning Commission of the People's Republic of China and the Ministry of Health and Sanitation have signed a Memorandum of Understanding (MOU) for Chinese Ophthalmologist Team to carry out Cataract Surgery in Sierra Leone. and support the Maternal and Child Health programme of the Ministry.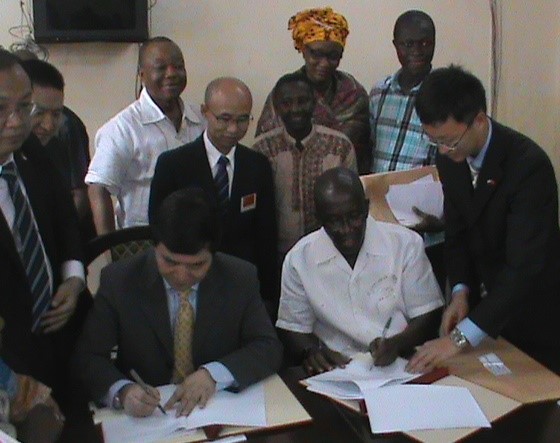 R-L: Minister of Health, Dr. Abu Bakarr Fofanah and Ambassador Zhao Yanbo signing the MOU
Signing on behalf of the Chinese Government at the Ministry's conference hall, Youyi Building in Freetown, the Chinese Ambassador to Sierra Leone, Zhao Yanbo said China has established bilateral relationship with Sierra Leone since 1971 noting that from 1973 the Chinese Government continues to fulfill its pledge in providing medical assistance and personnel for Sierra Leone, adding that the team will also provide support to the Ministry's Maternal and Child Health programme.
Ambassador Zhao Yanbo disclosed that China has implemented the Cataract project in four countries and that Sierra Leone is the fifth country to benefit from the free Cataract operations.
Signing on behalf of the government and people of Sierra Leone, Health and Sanitation Minister, Dr. Abu Bakarr Fofanah expressed thanks and appreciation to the People's Republic of China for their support to Sierra Leone, especially in the area of health delivery service.
He described China as one of the countries that provided timely assistance to Sierra Leone during the Ebola crisis.
Dr. Fofanah reiterated that the friendship between Sierra Leone and China dates some 40 years back , characterized by mutual respect for both countries.
He informed his audience that Sierra Leone is one of the most consistent, steadfast and unshakeable supporter of the People's Republic of China in the international scene, adding that never at any time has Sierra Leone wavered on their support be it in the United Nations or wherever.
In terms of support to the health sector, the Minister observed that China is ever now poised to do far more than before for the country.
Dr. Fofanah disclosed that besides the two projects for which a Memo has been signed, the Chinses Ambassador has also announced two big projects: Construction of the Tropical Disease Research Institute at Jui and the new Ministry of Health building.
The Health Minister thanked Ambassador Yanbo and the Chinese government for the gesture and looks forward to a sustainable resourceful partnership between the two countries.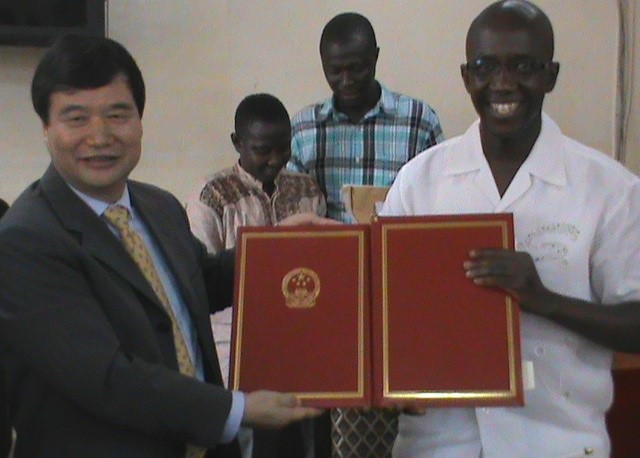 R-L: Health Minister, Dr. Abu Bakarr Fofanah and Ambassador Zhao Yanbo displaying the documents
Signing and exchanging of documents formed high point of the ceremony chaired by the Chief Medical Officer, Dr. Brima Kargbo.