Wednesday November 23 , 2005
Some residents of Bo Town have called on the Police and the Sierra Leone government to exercise restraint in the aftermath of the unpleasant demonstrations against the Vice-President, Mr. Solomon Berewa , by mobs believed to be supporters of Mr. Charles Margai,  at a leading school campus in the town over the weekend.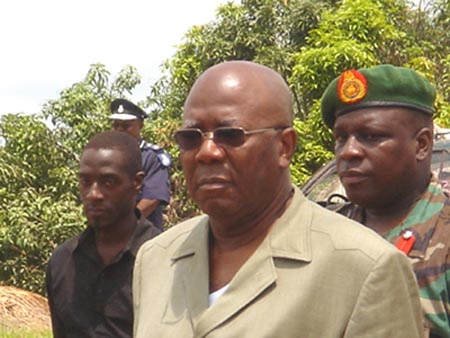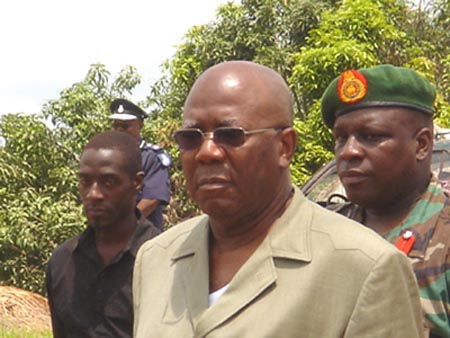 KABBAH : WHAT IS HE DOING TO COOL TENSIONS IN THE COUNTRY ?
Soribah Kalokoh , our Provincial correspondent , who is in Bo presently, sampled the views of residents of the town at the Bo Lorry Park , the  market and a Poyo Spot on the New Road near Njagboima  yesterday .
According to Kalokoh, who spoke with the Editor of this newspaper on the phone, Bo residents are concerned about a wave of arrests being carried out by the Police since last weekend's events at the campus of the Christ The King's College ( CKC ) where the Vice-President's motorcade was blocked at the school gate by unruly crowds that were said to have booed him and banged with their fists on his car.
Soribah disclosed  that "Most of the people I spoke  with expressed grave concern  at the escalating political temperature in the country , with the elections still one year and 10 months away. Some of them condemned the behavior of the crowds and said that it was not the right manner to make their views heard. They fear that the wave of arrests by the Police will exacerbate tension in Bo. They called on the government to stop the arrests before they imprison the wrong persons and provoke disturbances in the town. "
People in Bo are also not happy about the action the government took against CKC  by banning all school activities and blaming the school authorities whom they accused of administrative inefficiency, Kalokoh went on . Many of them , he said, felt that the school authorities were not to blame for the behavior of the crowd to the Vice -president. They said that the prize-giving ceremony , which the Vice-President was trying to attend on the invitation of the school administration, was a public event and it was difficult to keeop out people, especially as the school compound was not fenced out. The residents felt that there was nothing the school Principal or other officials would have done , when even the Vice-President's security could not break up the wild demonstration.
The residents told Kalokoh to relay their appeal to the Police and the government , through the website he was working for, to exercise restraint and put an end to the arrests .They warned that there was the danger of the Police arrresting the wrong people while relying on information from the victims' enemies.