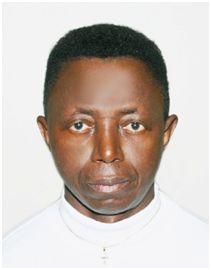 I am still congratulating my Sierra Leonean people for conducting themselves peacefully during the recent campaign and voting periods, especially the youth who are normally used by unpatriotic and violence-oriented politicians who always want power at all costs, even at the expense of the lives of poor Sierra Leoneans that have nowhere to run for safety in case of war.  (Photo: Tony Bee, author)
This great work and good behavior of Sierra Leoneans indicate that the patriotic and nationalistic citizens that love peace, progress and development have learned their good lesson from the past 11 years of uncivilized civil war that destroyed thousands of valuable lives of harmless and innocent Sierra Leoneans. Therefore, I do believe that no peaceful, progressive and development-loving Sierra Leonean will ever again allow wicked and power-drunk politicians to incite or instigate the youth to start killing one another while they, the wicked politicians, will flee to Guinea, or another country.
However, as a Sierra Leonean brother, I have a message for Maada Bio and his SLPP party enthusiasts. The message is that I would want Bio to know that many of those who are  currently pushing and using him as a robot and advising him not to  accept the election results if he loses are in the safety of other countries, enjoying with their families. So Maada Bio should be mindful that any problem that they are pushing him to create in the country will, definitely be at his own and family's expense.
To prove me right or wrong, where are Issa Sesay of RUF and some of the Kamajor leaders today? And above all, where are Charles Taylor of Liberia and Lauren Gbagbo of Ivory Coast today? All those who have been pushing them to create problems in their countries are currently with their families and loved ones enjoying themselves. So my brother Bio, think twice before you take the wrong step or it will be too late for you.
However, I still continue to launch my appeal to all peaceful and development-oriented Sierra Leoneans to continue opposing fellow Sierra Leoneans who are enemies of the state, enemies of progress, and enemies of the hard-earned peace in the country. In view of that, I encourage all patriotic journalists, the Independent Media Commission (IMC), National Electoral Commission (NEC), Political Parties Registration Commission (PPRC), the Bar Association, Teachers Union, religious groups, civil societies, human rights organizations, Labor Congress, women's groups, youth organizations, musicians and other artists, traders associations, market women's associations, student unions, disabled organizations, cassette sellers associations, booksellers associations, photographers associations, newspaper vendors, etc. to rise up and oppose the promoters of tribalism, violence, regionalism, hatred and dishonesty, especially the turn-coat politicians and the devil- incarnate political chameleons in the country before it is too late.
PLEASE, PLEASE, MY BROTHERS AND SISTERS, THIS IS THE TIME TO PROTECT OUR COUNTRY; THERE IS NO OTHER TIME MORE SUITABLE THAN NOW. WE SHOULD NOT WAIT UNTIL SOMETHING HAPPENS BEFORE WE BEGIN TO SHOUT. NOW IS THE RIGHT TIME TO SHOUT ALOUD TO SAVE OUR MOTHERLAND FROM ANOTHER CATASTROPHIC WAR.  BULLETS FROM AK-47 RIFLES AND OTHER DANGEROUS WEAPONS DON'T DIFFERENTIATE BETWEEN A JOURNALIST, AN SLPP OR APC SUPPORTER; EVERYBODY IS A TARGET IRRESPECTIVE OF WHAT TRIBE YOU BELONG TO, WHAT REGION YOU COME FROM, OR WHAT POLITICAL PARTY YOU SUPPORT. WE SHOULD THEREFORE WEAR THE COAT OF WISDOM BEFORE DESTRUCTION COMES.
WHEN GOD SAYS YES, WHO WILL SAY NO?
By Tony Bee, Sydney, Australia