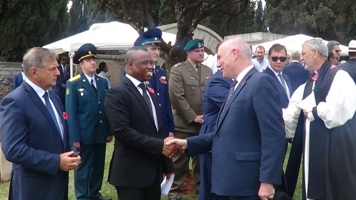 A cross section of the diplomatic community in Addis Ababa, Ethiopia warmly congratulated Sierra Leone after the World Health Organization (WHO) on Saturday 7th November, 2015 declared the country free of Ebola.
The Ambassadors used the annual Remembrance Day Service held at the Commonwealth War Graves on 8th November, 2015 in Addis Ababa to applaud His Excellency the President, Dr. Ernest Bai Koroma and the people of Sierra Leone for the courage they took to defeat the scourge.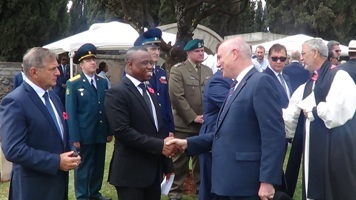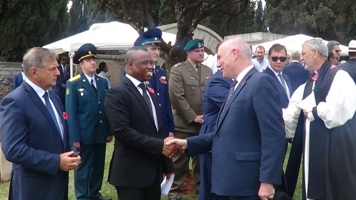 Ambassador Kamara in a hand shake with the British Envoy Mr. Greg Dorey (1).JPG
The Dean of the Southern Region and Botswana's Ambassador to Ethiopia, Her Excellency, Madam Mamosadinyana Molefe congratulated the people of Sierra Leone for their concerted efforts in eradicating the disease. The Tunisian Ambassador to Ethiopia on behalf of the Northern Region praised Sierra Leone for overcoming the Ebola Virus Disease whilst the Head of the European Delegation to the African Union, Ambassador Gary Qunince also lauded Sierra Leone for the significant achievement.
The Ambassadors of China, Japan, Malawi, Israel, among others also congratulated Sierra Leone.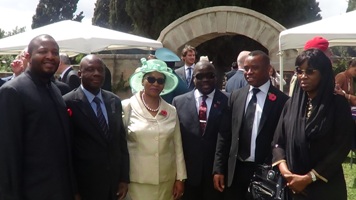 A cross section of African Ambassadors (1).JPG
Responding, Sierra Leone's Ambassador to the Federal Democratic Republic of Ethiopia and Permanent Representative to the African Union, Mr. Osman Keh Kamara expressed thanks and appreciation to his peers for the congratulatory messages and emphatically told them that the credit for this historic milestone primarily goes to His Excellency the President, Dr. Ernest Bai Koroma for his astute leadership in navigating the nation through one of the toughest battles in the country's history. He expressed gratitude to the international community for partnering with Sierra Leone for the accomplishment; adding that the remarkable victory will herald the revitalization of socio-economic recovery programs that were interrupted by the Ebola outbreak.
Embassy of the Republic of Sierra Leone