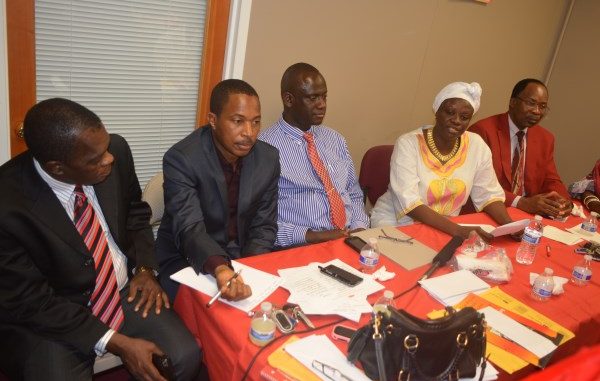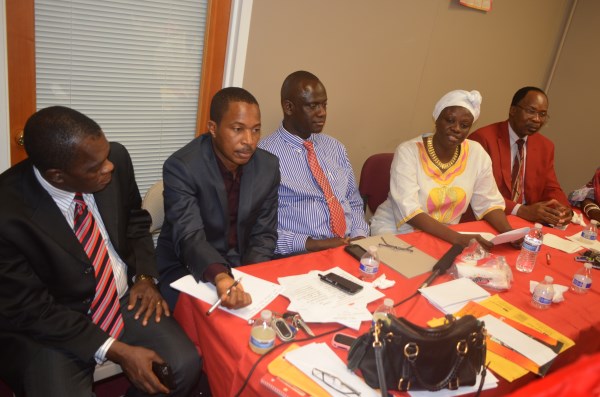 "Dr. Sylvia Blyden is One of the Nuclei of APC North America Chapter" – Osman Conteh
One of the founding members of the ruling All People's Congress (APC) North America chapter Mr. Osman T .Conteh has described Dr. Sylvia Olayinka Blyden Special Executive Assistant to President Ernest Bai Koroma as "one of the brains, enthusiasts and sponsors" behind the formation of the All People's Congress (APC) North America Chapter at the turn of this 21st century.
A period he described as "very traumatic for the APC- wherein people who now shouts Hosanna, were not only afraid to affiliate themselves with the party, but were also actually persecuting us."
This disclosure was made Sunday September 29th 2013, by Mr. Osman Conteh   during a meeting between Dr. Sylvia Blyden and APC Washington Metro Chapter at 9420 Annapolis Road, Suite 203 Lanham Maryland.
According to Mr. Osman Conteh, back then it was Dr. Sylvia Blyden who volunteered to assist the technical team of an executive that was led by the former Deputy Internal Affairs minister Hon. Raymond Kabia.
"Other members of the executive were the current deputy leader of the House of Parliament Hon. Bundu (Bo School), Member of Parliament Hon. Binneh Bangura, Hon. Martin Bash Kamara and myself (Osman Conteh).
He described Dr. Sylvia Blyden as the very first person to contribute substantial undisclosed amount of money as seed to the formation of the APC North America branch. "She used her time and energy and practically designed the APC website that became very popular to an extent that it attracted eight hundred visitors in just one day".
Mr. Conteh said Dr. Blyden, and Hon. Ibrahim Bundu rented an office space inside the tall building along New Hampshire Avenue in Maryland.
Concurring with Mr. Conteh amidst standing ovation, Dr. Sylvia Blyden first expressed her displeasure over the resentful conduct of some members of the APC NA.
"It is with sadness that I have sensed that the APC North America, has become bigger and bigger from where it was first formed, and has become not solidified but fragmented; not united but in disarray. "Not in unity of purpose but in backbiting to the extent of APC members being accused of reporting fellow APC members to American immigration and other government services."
She called for sobriety and appealed to comrades to put aside their individual egos and work together for the APC."
"Some of us have seen first-hand what happened to family of APC members, when the APC was removed from office. I do not need to recount it, as many genuine APC families know what I am talking about. It was in the midst of such emotional trauma that over a dozen years ago, myself and a team of dedicated persons, some of whom have passed away but one of whom I would wish to here mention in the person of late Hassan Benson Turay, came together and noted that we need to form a branch of the APC here in North America and from here, move over to institutionalise APC back home in such a manner that it will never be easy to destroy or dislodge again.
"We had a vision and we believe in the APC. "Fortunately, the current Deputy Leader of the APC in Parliament, Hon. Ibrahim Bundu who, having served closely in APC as a young man, is a walking encyclopaedia of the achievements of the APC under both late President Joseph Saidu Momoh and late President Siaka Probyn Stevens.
According to her, Hon. Ibrahim Bundu, popularly known as Bo School, could recite Agricultural and Road projects undertaken by APC off the top of his head as he gave reasons why we should be proud of the legacies of the APC.
She admonished them to be brave and said the APC of tomorrow belongs to you the youths!
"Never believe you cannot make a change. "I helped to make a change in APC North America when I was less than 30 years old. "You can also do it. "We have a current APC Leader whose passion for young people is boundless! "President Koroma's love for young people is astounding. "I work very closely with him and share his visions and aims and I can tell you all the youths of APC here in America and elsewhere that if you work hard to promote the APC, your efforts will be recognised by His Excellency, the leader of the APC. "This is your time! Rock for the APC!
Earlier, President of the APC Washington DC Metro Area thanked Dr. Blyden for meeting with her (Dr. Boyden's) people.
Mr Ibrahim Kamara said Dr. Sylvia Blyden has answered many questions and cleared many doubts in the minds of many people.
In her vote of thanks, the APC Washington DC Vice President Madam Beatrice Conteh, thanked the huge number of members in attendance and promised to move on with her legacy.
Pasco Gerald Temple
Information Attache
Embassy of Sierra Leone to the United States
1701 19th St. NW
Washington, DC
20009
Tel:+202 4466958
© 2013, COCORIOKO. All rights reserved. – Discuss this and other related articles on the Salone Forum