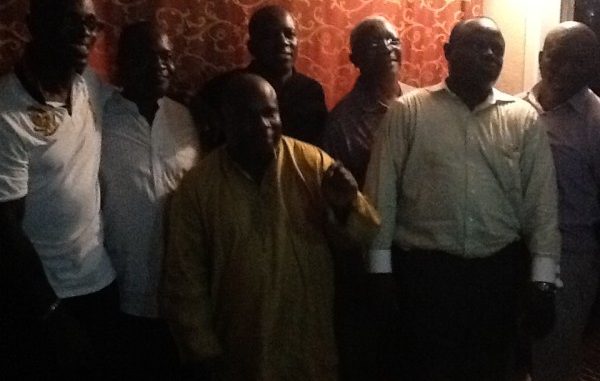 This is the kind of quick-fire information you will get only in your popular COCORIOKO.  Shortly after the new cabinet list was announced to an anxious nation and diaspora this afternoon , many of the ministers re-appointed by President Ernest Bai Koroma drove first to State House where this newspaper interviewed some of them, and after that they went out to celebrate.
We bring you pictures of the ministers celebrating at Hill Station Club . Some of them had been targets of bitter  attacks by P.H.D ( Pull-Him -Down  ) journalists who had been writing malicious articles against them during the tense wait for the formation of the new cabinet . The so-called journalists thought that by writing defamatory stories against these ministers, they will influence President Ernest Koroma from re-appointing them. But we did say yesterday that these pressmen were wasting their time because President Koroma does not pander to gossip and foolish articles in newspapers. He knows members of his team who are doing a magnificent job and thus many of his ministers will retain their jobs. How true our declaration ! ! ! Many of the ministers returned to their posts. Some who were removed from their previous positions were re-assigned to other ministries.
HERE ARE PHOTOS OF THE MINISTERS AT HILL STATION CLUB THIS EVENING, SHORTLY AFTER THE NEW CABINET WAS ANNOUNCED :
THEY WENT OUT TO CELEBRATE , AND HOW WELL THEY DESERVED TO DO IT :  FROM LEFT-DEFENCE MINISTER PALOR CONTEH;  TRANSPORT MINISTER VANDY MINAH; ENERGY AND POWER MINISTER OLUNIYI ROBIN-COKER AND FORMER FOREIGN MINISTER J.B. DAUDA WHO HAS BEEN RE-APPOINTED INTERNAL AFFAIRS MINISTER.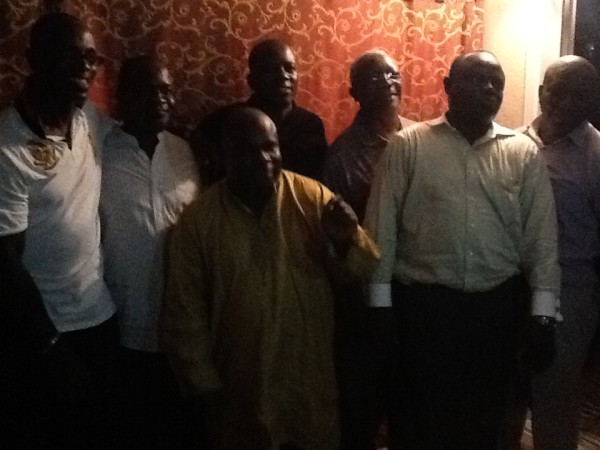 THE MINISTERS ARE JOINED BY COCORIOKO'S FODAY MANSARAY ( FAR RIGHT ), WHO FACILITATED THE INTERVIEWS AT STATE HOUSE AND MR.ABU BANGURA, THE GENERAL MANAGER OF THE SIERRA LEONE PORTS AUTHORITY , WHO SENT US THESE PHOTOS