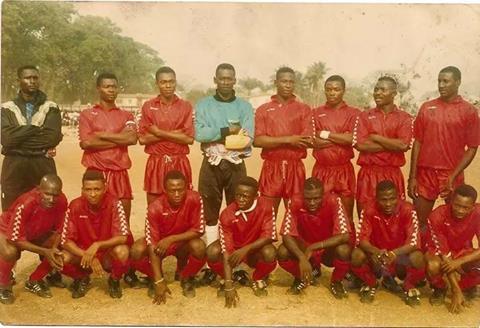 Obituary Announcement of the late Abubakarr Sesay aka 'Abu Community'
Freetown- 25th May, 2014
The Sesay Family regrets to announce the sudden death of their son and brother Abu Bakarr Sesay commonly known as 'Abu community (52)'.
He died on Friday 24th May, 2014 at the Connaught Hospital in Freetown.
Abubakarr Sesay will be buried on Monday 26th May at the Kissy Road Cemetery at 4:00 PM.
He survived by his Wife Isata Sesay and three children: Fatmata Easther Sesay, Abubakarr Sesay and Kadijatu Sesay.
His mother, Yanshero Kamara and step mothers, Isatu Conteh and Aminata Sesay.
His brothers: Mannie Sesay, Abdul Sesay, Alhaji Sesay of the United State of America, Aruna Sesay, Mohamed Sesay, Soulay Sesay, Alhassan Sesay Mustapha Sesay, Osman Sesay, Alieu Sesay, Abdul Hassan Sesay and Umara Sesay.
His Sisters: Babi Sesay, Aminata Sesay, Sidratu Sesay of the USA, Isata Sesay who lives in Guinea and Hassanatu Sesay.
The family also recognizes the Kamara family from Kono, Port Loko and Freetown. The Conteh family from Kono and Freetown.
The Sesay family also acknowledged his friends at Swizzy Jewelers, the Friends of Total Organisation, East End Lions, Diamond Stars, Black Pool, Port Authority and the National Team Leone Stars.
The family however regrets any omission of names, as you all are consider important to the family.
Sympathizers may visits the Sesay family at # 2 Marshall Street Fourah Bay Road or call the following numbers: 077837946/076657494/ 079066424
By AHMED SASSO :
Another sad news within my football family. Abu Community kneeling next to me on my right passed on. A teammate and good friend. God forgive and bless ur soul bro. The time we spent together on and off the field with EAST END LIONS FC will be cherished.
I was woke up this morning with the worst phone call you could imagine. I got this sad news that my cousin Abu Bakarr Sesay commonly known as ABU COMMUNITY a former Leone stars international player; he also played for kono Diamond stars and East End lions football clubs during the 90s has sadly passed away yesterday in Freetown. Prayers will be held at Susu mosque of Patton street tomorrow May 26 and will be buried later at kissy road cemetery. May his soul rest in peace
DENIS AHMED MODU KOROMA