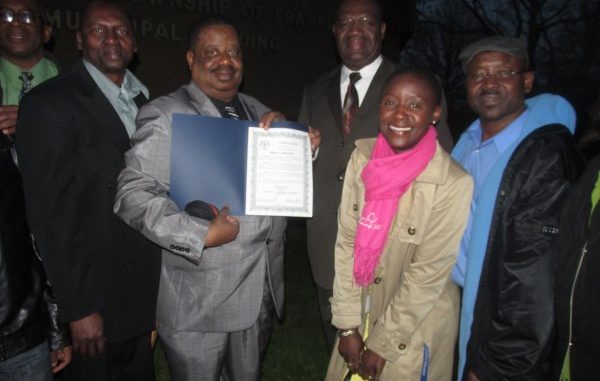 By Abdul H. Gabisi , Secretary General of the Sierra Leone Community of New Jersey (SLCNJ) :
Franklin Township on April 23rd 2013 had their Tuesday township meeting at their municipal court. The meeting was call to order at 7pm by the Councilman Mr. James Vassanella who also led members present with the pledge of Allegiance and the invocation.
The roll call was done by the Mayor Brian D Levine who called Councilman Mr. James Vassanella to begin the meeting with the Proclamation for Sierra Leone. Councilman James Vassanella read the Proclamation and called on Mr. Abdul H Gabisi, Secretary General of SLCNJ (Sierra Leone community of New Jersey) to receive it.
In response Mr. Gabisi warmly greeted the Mayor and the entire members of the Franklin Township. On Behalf of the SLCNJ leadership present and the Sierra Leonean community at large, he thanked the township for continuing to recognize the positive contributions Sierra Leoneans have made in the township. This was cumulated with their recognizing our independence day April 27, with a proclamation that has been done for the past three consecutive years. He further mentioned that Franklin Township since 2008 have been recognized by money magazine as the best township in the USA. This was repeated in 2010 and at present Franklin Township is among the 5 best townships in the US. He also thanked Mayor Brian D Levine for governing the Township for the third consecutive term. This speaks highly of his leadership.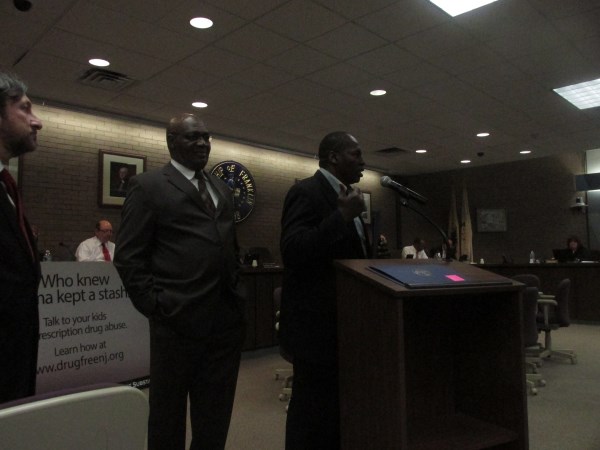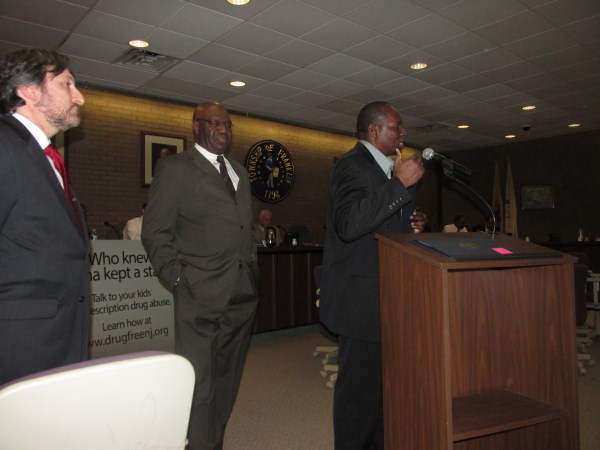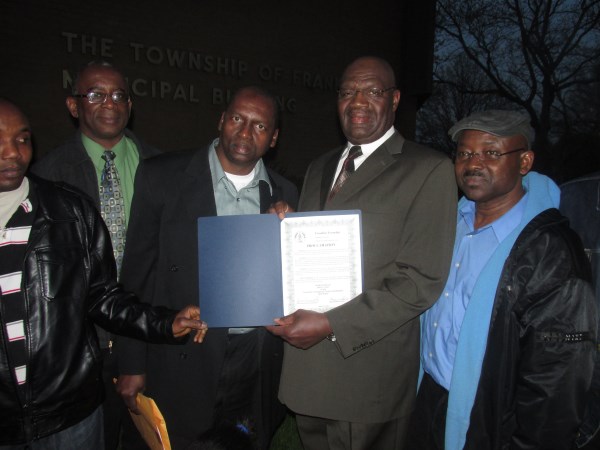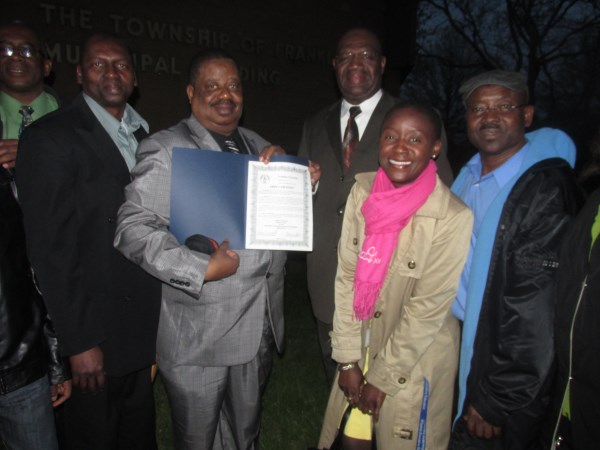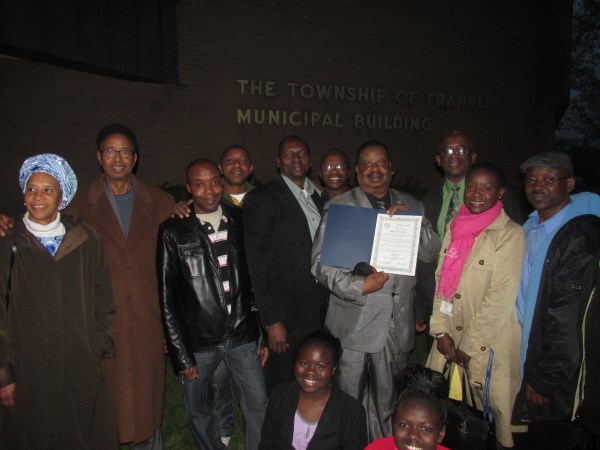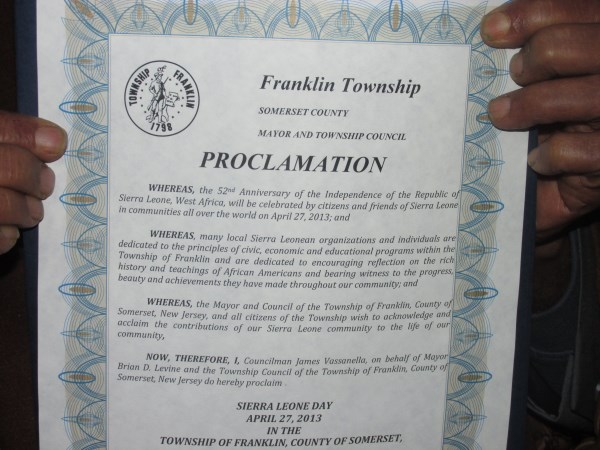 MR. HADI GABISI THANKS THE FRANKLIN TOWNSHIP FOR THE PROCLAMATION . STAN
DING BY HIM ARE THE CHAIRMAN, MR. LAMIN ALHARAZIM AND MAYOR LEVINE
At this juncture Mr. Gabisi called on the chairman of SLCNJ Mr. Lamin Alharizim and the Minister Plenipotentiary Mr. Leeroy Kabbs Kanu to say a few words. Mr. Alharazim expressed his gratitude to the mayor and the council for bestowing such recognition and added that Mr. Gabisi has given a befitting remark for this memorable occasion. He then introduced Mr. L kabbs kanu as a diplomat and also a residence in the Franklin Township.
CHAIRMAN ALHARAHIM(SECOND FROM RIGHT ) AND MR. GABISI DISPLAYING THE PROCLAMATION : STANDING BY GABISI IS MR. MELBOURNE GARBER 
Ambassador Leeroy Kabbs Kanu also thanked the Township for the proclamation given .He mentioned his humble contribution as a teacher several years past and has now been very much integrated in its affairs. He reaffirmed that Sierra Leoneans here fully take this township as their home and will live and die here .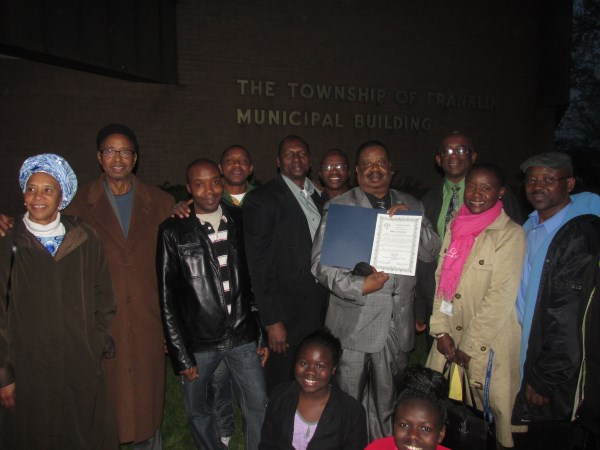 MINISTER PLENIPOTENTIARY KABS KANU DISPLAYS THE PROCLAMATION : ON THE FAR LEFT : MR. AND MRS. BEN JALLOH
Sierra Leoneans present later took very interesting pictures which also commemorated the beginning of our Independence events. The secretary reminded all present of the forth coming Inter faith community prayer on April 27th our Independence Day. This will be followed with our Parade on May 4th and concluding with our Independence dance at night. All are encouraged to attend.
Abdul H Gabisi
MORE PICTURES TO BE PUBLISHED LATER TODAY