By COCORIOKO REPORTERS
It seems there is no end to the multitudinous political drama being churned in Sierra Leone by the President Bio Sierra Leone People's Party ( SLPP ) Government.
With a confluence of breaking news that former President Ernest Bai Koroma and the executive of the opposition All People's Congress ( APC )  have been invited to the CID  on allegations of sedition and also that the Sierra Leone Bar Association has challenged the government's Commission of Inquiry to court, government troops this morning stormed the APC party headquarters in Freetown . Armed Police in riot gear arrived in trucks and sealed off the whole area, barricading the party office.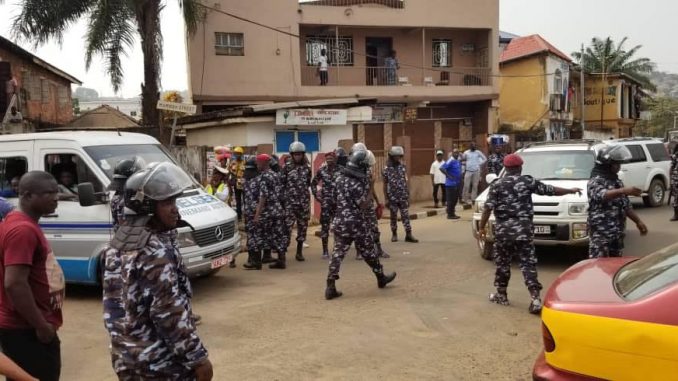 The reasons for the latest attack by President Bio's troops on the APC  party office are unknown, but Freetown media sources said they were informed by one low ranking officer that they received orders from State House this morning to seal off the party office.
Meanwhile, schools were supposed to have reopened today from the Christmas break but many parents are refusing to send out their children because of fear of civil unrest in the capital, which is becoming a possibility everyday since the series of public protests against the high-handed actions of the government started.