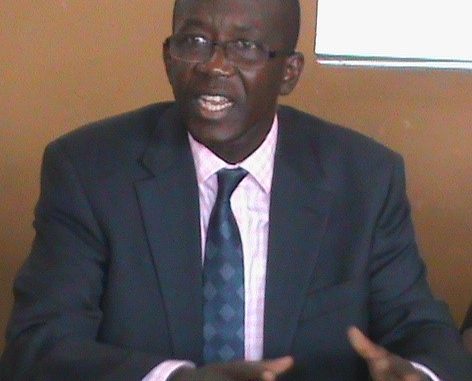 Ebola threat! – Health Minister Assess level of Preparedness at Gbalamuya Border Crossing Point, Lauds Personnel for being vigilant
Kambia, April 6, 016 (MOHS) – Health and Sanitation Minister, Dr. Abu Bakarr Fofanah has said that Ebola is a stubborn disease and has the tendency to re-emerge based on historical evidence, and lauded border personnel for being vigilant.
Addressing the Military, Police, Port Health Workers, Immigration Officers and Community Elders at the Gbalamuya Sierra Leone – Guinea border crossing point in the Kambia district, Dr. Fofanah reminded his audience that after the end of the outbreak announcement by WHO in Sierra Leone, the country unexpectedly experienced the re-emergence of a case, and similarly for Guinea and Liberia, and warned against denial and complacency.
Health and Sanitation Minister, Dr. Abu Bakarr Fofanah making his address
He reiterated that denial and complacency would not help the prevailing circumstance and encouraged the Gbalamuya community, the entire Kambia district, Guineans present and Sierra Leoneans in general to continue to observe the infection prevention and control measures, noting that it is only by taking the necessary precautionary measures that Ebola would be defeated.
Border closure, the Health and Sanitation Minister said is not the right answer to the existing Ebola threat to the three countries: Liberia, Sierra Leone and Guinea due to economic cross border trade and the existing fraternity and political brotherhood among our leaders.
He reiterated that the MRU, ECOWAS and AU protocols does not call for border closure because it would not be in the spirit of the existing bilateral friendship. President Ernest Bai Koroma, the Minister told his audience, believes in community engagement and appreciates the existing bilateral relationship between his leadership and President Alpha Konde of Guinea, emphasizing that observing the key sensitization and awareness messages from the health workers would reduce the risk of contracting the disease.
Dr. Fofanah expressed gratitude and appreciation to the security personnel, the Chiefs, Port Health staff and the Kambia District Health Management Team for the good work and encouraged them to continue to be vigilant.
Making his remarks, the Commanding Officer 11th Infantry Battalion Kambia district, Lt. Col. Biriwa Joshua Conteh disclosed the deployment of military officers in all strategic positions between Guinea and Sierra Leone, assuring the Minister that security is guaranteed.
He said the Police/Military partnership always ensures people from both sides go through the screening process, observe the hand washing, and appealed for more logistics support to strengthen infection, prevention control at border crossing points.
The Local Unit Commander, Francis Hazeley described the Minister's visit as welcoming and very motivating.
Their task to save life and property he said is ethically implemented, adding that the partnership with their Guinean counterpart is very cordial and resourceful in maintaining law and order.
He lamented the Ebola tragedy and reiterated the need for continued community support to avert recurrence of the disease.
Section Chief, Pamlap, Mohamed Lamin Sesay and Town Chief Gbalamuya, Momodu Bah-Fofanah commended the Minister for what they described as a life-saving visit, and on behalf of their people pledged to ensure that all security and health precautionary measures are observed.
Earlier, the Minister and team engaged the District Health Management Team where the District Medical Officer, Dr. Foday Sesay provided detailed update on the current situation and level of preparedness, and led on a conducted tour by Port Health Personnel to various screening facilities.
JAK/KK/MOHS/SLENA