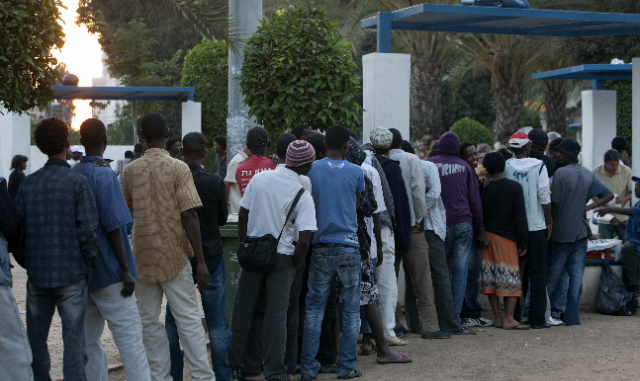 The undisputed fact is that the West has fallen. The United States of America , Britain and the Western world are no longer the land of opportunities they once were in the 1960s, 70s, 80s and even in the early 90s. Today, America, England and Europe have nothing remarkable to offer anymore and Africans are running back home to queue for jobs from their governments.
How things change. Only yesterday, the vogue was to keep  whole day vigils in Western embassies in Africa for visas to come to America or England to seek the golden fleece.  Today, Africans in the diaspora have come to the startling realization that the golden fleece is no longer in the West and if anything , it is now in their African countries. Therefore, there is now a dramatic reversal of trends–The same Africans who once scrambled to come to the West to seek opportunities and good fortune are now racing back home in Africa where they think they will have better opportunities for that slice of luck to open doors of opportunities.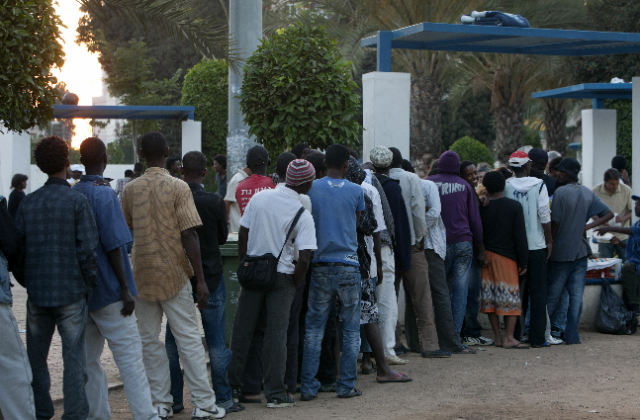 NIGERIANS RETURNING TO THEIR COUNTRY
The truth that nobody would dispute now is that the West is in a serious socio-economic  decline .  The one-time Mecca of golden opportunities and better quality of life has become a huge let down . One is better off staying put back home today than coming to the diaspora to seek uncertain opportunities and better living.  The jobs are drying up. Even the nursing and care-giving fields, which used to be the only source of redemption , are suddenly stricken with non-hiring policies, layoffs, cut-backs and trimming of benefits. In the educational field, universities prefer  adjunct professors while schools would rather make do with substitute teachers ( who get mere honorariums and no insurance benefits ) .   Due to excessive and inordinate greed for more profits and to cut costs, companies  and corporations or businesses are hardly hiring,  using the global economic downturn as scapegoats. While it is a fact that there is an economic recession out there, it does not excuse the employment practices prevailing today in the diaspora .Too many companies and corporations have become so greedy for profits that they are slamming the brakes on employment. Where they hire at all, it is on temporary basis and where it is permanent,  callous and insensitive bosses are scaling down on the benefits once enjoyed by their employees. Some no longer offer insurance benefits . For all the beating Africa is receiving  from the Western media about poverty and  poor working conditions, many employees  today in Africa enjoy better job security and protection than their colleagues in the diaspora. As late as the early 2000s, it used to be the opposite. Things have changed.Countries like Sierra Leone, Ghana, Liberia, Rwanda, Kenya , Equatorial Guinea, Gabon and South Africa have become lucrative magnets for diasporans seeking better lives.
Nothing makes life in the diaspora more objectionable now than the hawkish and ripoff tactics of utility companies and other service-providers. Most of the bills ferreted by these companies and service-providers are inflated and criminally exorbitant. Too many people are disgruntled with the ruthless manner ripoff bills encroach on their take-home salaries. Rent and mortgage do not reduce in the diaspora. They keep escalating and one begins to wonder how many people will be able to pay their rents or mortgages in the next 15 years, given the alarming manner the rates escalate every year, while salaries remain stagnant. Homelessness will be the order of the day. In the diaspora, man is at the mercy of the greedy, exploitative capitalist system. There is nobody to complain to, unlike Africa, where some governments have on occasion intervened to force landlords to reduce their rents or implement measures to control prices at the markets .
Life is also very boring in the diaspora, as any newcomer would soon discover. Here , it is work, work, work whole day and for some people even whole night. There is no time for recreation or entertainment. When one thinks back nostalgically on the good, old days in Sierra Leone (The Super Combo or Purple Days era ) or Liberia ( The Moga Band and the Holiday Inn era ) , America and England are prisons. The weather provides no consolation. When it is not snowing, it is raining or there is a heat wave.
We, African journalists living in the diaspora, have to be frank in our assessments of life here. After all, reporters and correspondents representing Western media in Africa do not flinch to write about our socio-economic and political problems. It is high time that we too began to paint an accurate picture of what we see out here  so that our people in Africa would stop fooling themselves that the grass is still greener on the other side. It is no longer the case. Too many young people in Africa are building their hopes and future on coming to America or England , thinking that the streets of New York or Washington , or San Francisco or London or Paris are paved with gold or that money falls from the trees. They need to be advised ahead of time that things have changed in the diaspora and that if it used to be true it is no longer so.
The vicious, malicious  and undignified manner diasporans  try to slay  the character of government officials they think have not done enough to help them get government jobs is inexcusable, but our people back home need to know why suddenly once-content diasporans are becoming very desperate  for jobs back home  and have started competing with them for the scanty jobs and opportunities available. The West has fallen .
THIS TOPIC WILL NOT GO AWAY. IN MY NEXT INSTALLMENT, WE WILL DISCUSS WHY THE WEST  NO LONGER  HAS THE MORAL AUTHORITY TO TALK ABOUT CORRUPTION IN AFRICA. WE WILL LOOK AT THE SUNDRY WAYS THE RAMPANT CORRUPTION IN AMERICA AND ENGLAND DESTROY LIVES, CAREERS AND THE FUTURE OF MANY WHO RAN AWAY TO THESE COUNTRIES THINKING THEY WILL GET A BETTER DEAL FROM THE SOCIETY.