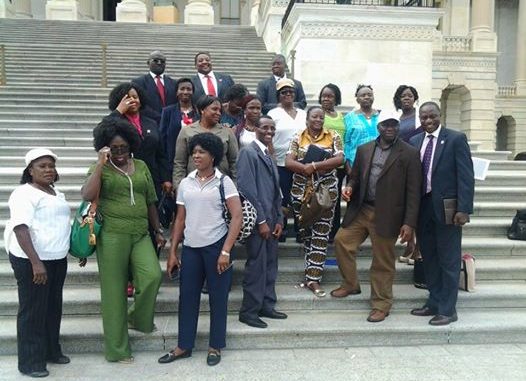 The Concerned Citizens  of New Jersey Fighting the Ebola Virus last Wednesday  travelled to Washington DC to demonstrate solidarity with citizens of neighbouring Liberia on whose behalf Congressman Donald Payne jr had organized a rally to expedite the plan by the U.S. Government to grant Temporary Protected Status ( TPS )  to visiting Liberians stranded in the U.S. by the Ebola outbreak in their country.
THE LEAD ORGANIZER, MRS. INEZ KONJOH, TOLD COCORIOKO : 
On Wednesday, September 10th, 2014,We attended a conference at the Capitol, in 
Washington, DC, hosted by Congressman Donald M. Payne, Jr. The focus of the 
conference was the Ebola virus and what is being done to contain it, and assist 
those affected, and also how it affects the immigration status of people who 
immigrated from the affected areas. The congressman himself was present;  US 
House of Representative member Sheila Jackson, representatives from USCIS, 
USAID, Liberian Ambassador to the US and members in the Liberian and Sierra 
Leonean community as well as other speakers, were present. I was a bit 
disappointed at being there and seeing how the focus was mainly on Liberia and 
what is being done to help them through this Ebola Crisis, and eventually help 
restructure their economy when this is all over with, but halfway through the 
presentations, I thought to myself, this was not for me to be disappointed; rather,  this 
was to serve as an eye opener, to me and the rest of the Sierra Leonean 
community to rise up, and start taking initiatives to move our country forward. 
This is the time when we need to stop asking " What has our country or 
government done for us ? " but instead ask, " what have we done for our beloved 
country?" This is a wake up call; we need to start advocating for Sierra Leone, 
and get our people the much deserved help they need. Together we can put our 
differences of tribalism, religion and politics aside, and help Sierra Leone go 
through Ebola, and continue to help strengthen our very fragile health system.

Blessing, Inez.