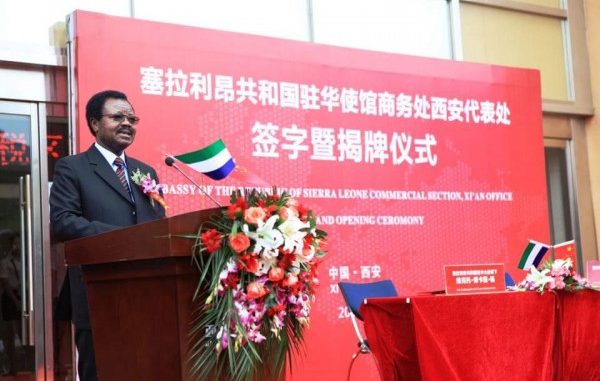 John Baimba Sesay-CHINA
Some twelve months ago, (February 19th 2015) Victor Bockarie Foh then Ambassador to China left Beijing for Freetown. He was to be sworn into office as the country's Vice President a month later (19th March 2015), something, he never thought of!
Victor Bockarie Foh had served as the governing Party's (APC) Secretary-General and successfully won two Presidential elections for it, before he was appointed his country's Ambassador to the People's Republic of China. Joining the Party in 1970 as a registered card carrying member, he has ever since endlessly, steadfastly and tenaciously served the Party in several capacities including, but not limited to; Regional Chairman, Southern Regional and Assistant National Secretary General. He has NEVER defected away from the APC even at the most crucial times of the Party's history, for which he has gained propriety and honor not just within his Party, but across the country's political divide.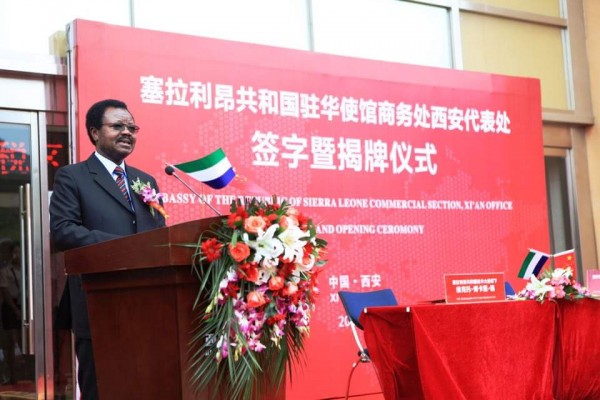 Ambassador Foh's rise to political prominence did not start yesteryears, but decades ago. In 1996 that is 19 years before he got appointed as the country's VP, he had contested elections to be Vice President, on the ticket of the now governing All People's Congress Party, but lost. And 19 years after, by God's Will, he was appointed Vice President! And on the 19th of March, 2016, he will, all things being equal, be one year in office as Vice President of the country. So as he himself believes "19(Nineteen) is indeed my Lucky Date/Number."
Towards a year in office, he still reiterates his commitment to serving the President and country loyally as did S.I Koroma to the Party and to then President Siaka Stevens. "I have no AGENDA," he told me, responding to questions for an interview, Saturday 20th February, 2016, and clarifying further "President Koroma's AGENDA is my AGENDA and I want to assist the President in all that he may assign to me. The late Vice President S.I.Koroma's example of loyalty to the APC Party and President Siaka Stevens is my measure of service I want to give to my President, H E Ernest Bai Koroma"
Political pundits see this as classically important, given that in any political arrangement, loyalty and trust are of immense importance to the very survival of a political establishment. Some opined that it is as a result of Foh's political loyalty to the Party and its leadership that actually earned him his present position.
The Vice President agrees with such submission. In a June 2015 interview, he told me, his rise to political power has been "guided by the Grace of God and my commitment to my Party, the APC. I believe in steadfastness, commitment and devotion to a cause, be it political or otherwise. It is that commitment, devotion, trustworthiness, respect for others and service to country and humanity that I will bring to bear on my current assignment."
This sounds acceptably correct. Ambassador Foh was not among the many names that had made the rounds in the media, when a replacement was been discussed. The President, Dr. Ernest Bai Koroma was to make the right choice with the passage of time and with God's direction. A nonaligned and non-ambitious, but a plainspoken Vice President would provide him with the greatest positive features and that was to be found in the person of Ambassador Foh. He has not only demonstrated been a seasoned, experienced and capable administrator, but a well-mannered politician with strategic thinking abilities that fit within the yardsticks the APC would need as a people-centered/mass Party .
A year in office, and in tandem with the President's trajectory for country growth and national cohesion, much has happened within the Vice Presidency. VP Foh is convinced the platform he stands on will help bring about the desired needs. "My platform over the period is very much firm on reconciliation, holding the country together and holding the APC as a Party, very neatly together", he said, with confidence. "With modesty, I am the BRIDGE, the Regional Balance" he told me.
This cannot be more truthful. Valentine Strasser and others military officers had played a role in the brutal overthrow of the APC in 1992. If there is any institution that should be bitter, angry and never be prepared to forgive Strasser, it should be the governing APC. But with the high-minded and compassionate nature of the All People's Congress, it came as no surprise that Vice President Victor Bockarie Foh, has moved towards the drive of national reconciliation, and has extended a political olive branch, thus, embracing Strasser. National reconciliation is crucial to the growth of any nation.
That is why, Ambassador Foh disclosed, "my olive branch goes to everyone. We are all the same and I believe every family in this country has suffered and we should forgive one another. That is why I stretch my hands to Stresser, that is why I am bringing the Hinga Norman family closer, former Vice President Berewa and every Sierra Leone for I hold no bitterness for anyone." This is the platform upon which he has stood and continues to stand – national reconciliation.
At the level of party politics, he referred to his loyalty as "unquestionable" and being "a grassroots politician and having served in almost all the positions, I know the Party" In politics, being able to 'know' the Party and be 'known' by it is extremely important for the very survival of not just the Party but it core ideologies and philosophies.
On the international scene, and within one year, he has stood the test of time, ably and effectively representing the President on a number of occasions: Malta during the Commonwealth Summit; at the Climate Change Summit in Paris; Ebola Conference in The Hague for the three affected nations and at the Sixth Forum On China-Africa Cooperation Summit in South Africa, in late December, 2015, amongst others.
Domestically, in one year, the Vice President's has "been to every part of the country on the mission of Peace and Reconciliation", representing the President in a number of functions and activities. He has successfully revived and re-energized the Inter-Ministerial Committee on Decentralization, a crucial Governance and Coordinating Agent for Decentralization and Local Government, the Inter-Ministerial Committee that had not been convened for over four years.
Vice President Foh knows the strength of the Party, with a clear view, that "All the Wings of the Party are important, including the Women's Wing, Youth Wing…" He continues playing a critical role in bringing to the centre stage, in the last one year, veterans of the Party. VP Foh has also been helpful with support from the Party's Leadership, in providing strategic direction that led to the winning of elections in Kono and opposition strongholds like Kailahun. He continues to humble himself to every Sierra Leonean and of course, the President, reiterating, what he said when appointed a year ago, that "if he (President) tells me to leave office, yes I will, and without question or bitterness and will continue to serve him and the APC with forever loyalty."
Irrefutably, a year in office and with no other agenda but serving the President and country, VP Foh's agenda could acceptably be found within that of His Excellency the President, Dr. Ernest Bai Koroma.