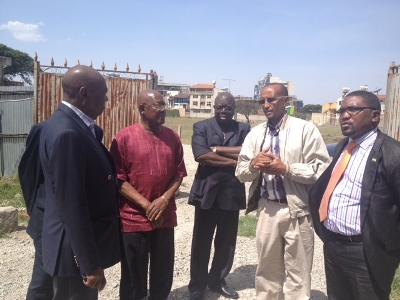 Professor Victor Strasser-King, Director Strategic and Policy Unit at State House and his delegation who are in Addis Ababa to attend the U.S-Africa Energy Ministerial meeting on Monday 2nd June 2014 visited the project site of the Sierra Leone Embassy in Ethiopia.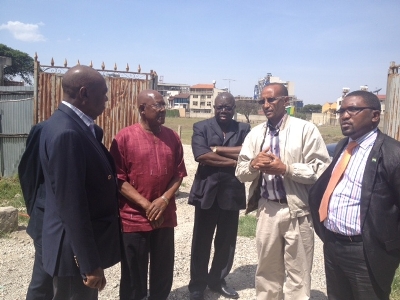 Strasser-King's delegation which included Sierra Leone's Ambassador to Washington, His Excellency Ambassador Bockarie Stevens and Mr. Edmund Koroma, Financial Secretary in the Ministry of Finance and Economic Development took a conducted tour of the site.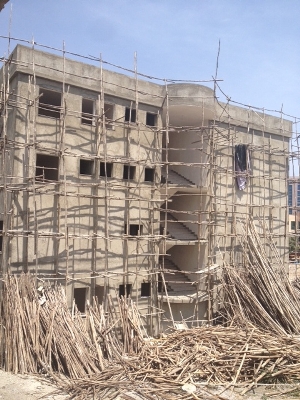 The complex consists of a Chancery, the Ambassador's residence and a Presidential VIP Suite. The building project is situated in Bole, Addis Ababa's prime area.
Receiving the delegation at the site, the General Manager of MEEG Building Contractor, Mr. Mehari Enyew disclosed that 85% of the construction work on the Chancery has been completed. Mr. Enyew dilated on the constraints he was going through as a result of unavailability funds to complete the project.
For the past eight months, he said, they could not continue with work at the Ambassador's residence because funds could not be remitted on time.
The leader of the delegation, Professor Victor Strasser-King said he was so impressed with the quality of the work at the site.
"I have knowledge on construction and I know about building. The quality is very high and the work is good," Prof. Strasser-King said, adding that it is always advantageous to have someone who is both a contractor and architect.
Earlier, Mr. Edmund Koroma, Financial Secretary in the Ministry of Finance and Economic Development had assured that upon his return he would make a follow up on the situation of the payment regarding the construction project in Addis Ababa.
"I will ensure that funds are remitted by next week for the Embassy's project site," he said. He pointed out that it is very important to protect and maintain Sierra Leone's integrity abroad.
Sierra Leone's Charge'd Affaires a.i. to Ethiopia, Mr. Ismael Koroma said that he was happy with the assurance made by the Financial Secretary. He further said that the Government of His Excellency the President, Dr. Ernest Bai Koroma is committed to seeing the completion of the project soonest. "It is very good that Mr. Edmund Koroma, the Financial Secretary is here in Addis Ababa," he concluded.
The site visit was also witnessed by the Minister Counsellor and Head of Chancery, Mr. Ibrahim Vandi Kondoh and Mr. Mohamed Victor Kamara, Second Secretary in the Embassy of the Republic of Sierra Leone in Addis Ababa respectively.
Abdul Karim Koroma
Information Attaché
Embassy of the Republic of Sierra Leone
Addis Ababa
Ethiopia
Email: akk23222@gmail.com