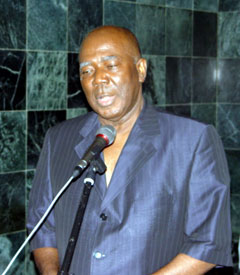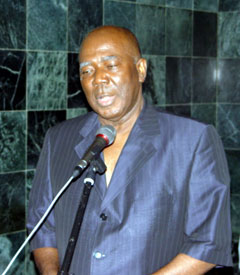 Story: Sahr Musa Yamba in Canada
I read with trepidation as a friend in Sierra Leone revealed to me on Skype chat forum, Ghadaffi in his recent visit to Sierra Leone said he donated two ship-loads of rice as his support to the country recovering from war.
Still not believing my eyes, I picked up the phone and called another friend in Sierra Leone. He also confirmed that is the talk around. But I was still very skeptical, knowing Sierra Leone for rumour mongering. I then quickly started surfing the internet. First Awareness Times- 'We are updating this website right now please stay connected,' was the annoying part of it. Then the headline "Kabbah welcomes Ghadaffi to Sierra Leone." Stale news!!!
I switched to Allafrica.com, desperate to find out what was amiss. But there again, there was nothing new, same old story: "Ghadaffi pushes for African Unity." No news!!!! I hissed lengthily. If he is pushing for African unity, why did he support a rebellion that caused millions to become destitute, thousands killed, made homeless and hundreds maimed? Some lost their social status never to reclaim again!!
Several thoughts started racing through my mind. I had listened to Umaru Fofannah's report, the previous day, on the BBC Focus on Africa about the Libyan leader's visit. It sparked my interest and Umaru in his report mentioned, among other things, that "…..Ghadaffi stopped short of making an apology to the people of Sierra Leone…." I had earlier called Umaru about the report and commended him for a job well done. But that was not all, the sweetest part, Umaru said was, "listen to the Network Africa report" and hear how Charles Margai (not a fan of him please don't misunderstand) tore the Libyan President apart by his criticism. I strongly believe Ghadaffi should at least apologize for the misery he caused us. Some of us are in foreign lands today putting up with all the odds from discrimination to doing odd jobs not because we want to, but because the foundations in our mother land for a better future have been shattered. And one of the architects for that is no less a person than Moamar Ghadaffi, the Libyan President. And now he ironically is "pushing for an African Unity," how strange!
But what really sickens me is that our country's leadership does not seem to see things that way. Their major focus is the dash for cash of the Libyan leader. Whatever misery he may have caused us, is not important. Who ever may have lost his family, friend or loved one should swallow the bitter pill hook line and sinker without ant apology from the unapologetic and pompous 'perpetrator.'
Oh, lest I forget and get lost in wonderment, I switched to the Patriotic Vanguard website. And there my ears were right. A report from Sorie Sudan Sesay read: "There have been bitter reactions in the country over revelations made by the Libyan leader, Muhammar al-Qadaffi when he addressed thousands of Sierra Leoneans last Tuesday at the National Stadium.
"The Libyan leader was on a state visit to Sierra Leone to garner support for the African Union by calling on Sierra Leoneans to support the push for a United States of Africa of which he is a major proponent. 
"Qadaffi also used the opportunity to reveal to the mammoth crowd which was predominantly Muslim, the numerous donations he had made to this country through the government of President Ahmed Tejan Kabbah, among which were two ship loads of rice, money to the tune of two million dollars, a fleet of vehicles, forty tractors, skip trucks, bowzers of fuel, nineteen buses and other items.
"These revelation from the Libyan leader has sent shock waves among Sierra Leoneans and although President Kabbah tried to explain that the money was used to set up the National Social Security Scheme (NASSIT), his explanation fell on deaf ears considering the fact that the people of this country are only knowing about that for the first time.
"As news of the Gadaffi revelation spread across the country, the question on many Sierra Leoneans lips' is why is it that the government of President Kabbah never informed the people about these gifts from Col. Gaddafi and his government.
"During a telephone programme on Radio UNAMSIL FM 103, caller after caller expressed their dismay and disappointment over the President and his government.
"…Meanwhile, the slogan around town is, "Yu don eat?" meaning "have you eaten?" apparently referring to the two ship loads of rice donated by the Libyan leader."
My eyes were again greeted with this, when I read the Cocorioko website and behold I saw in bold black and white reiterating that it was not fiction, but a fact. Ghadaffi had donated two-ship loads of rice and other gifts to Sierra Leone that have never been made public until now.
Hmmmm! I sighed. 'Monkey nor dae lef en balck hand!' ( A monkey will never leave its black hand) I thought to my self. 
I am still lost in wonderment, if Kabbah could dash for Ghadaffi's cash, keep a sealed lip, then why the use of molesting others at the Anti Corruption Commission (ACC). If the President used the money accrued from the sale of the two ship loads of rice donated by Gadhaffi to set up NASSIT, then why did he not account to the people first but only after the Libyan leader has spilled the beans? So if Ghadaffi hadn't mentioned that, we would have been in the dark till thy kingdom come? I bet my life this is not the only gift to Sierra Leone that has been hushed.
If Kabbah could dash for Ghadiffi's cash, keep it hush, hush, then why the hell is he not being investigated by the ACC? Oh, I forgot Presidential immunity!!!!  Then disgraced Minister of Transport and Communication, Dr. Prince Harding should be given back his job, because they are all the same soup, water melon SLPP. You don't think so? Then Justin Musa should return to Sierra Leone untouched, because he also 'borrowed' from the people as the Pa did! Hmmm, the list is long.
Ah, Pah Kabbah, 'wae we yone?' (where is our share) we the hungry cry!!!!!!