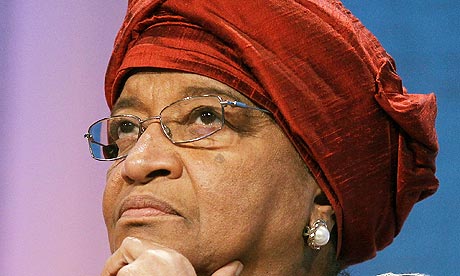 Liberian radio  wants Ellen Johnson-Sirleaf to lead or resign
Tuesday April 11, 2006
 Radio Free Liberia, an impressive internet radio that broadcasts  news and features  about Liberia all over the world, is unhappy with new President , Dr. Ellen Johnson-Sirleaf. In a letter  sent out to various media houses including COCORIOKO by the Founder and Chief Executive of RFL , Mr. Bodioh Siapoe ,  the international radio wants President Sirleaf to lead Liberia or resign. 
Photo : International broadcaster, Bodioh Siapoe
THE  COMMENTARY BY RADIO FREE LIBERIA BELOW
Radio Free Liberia, Inc. | 2905 Fallstaff Road, Suite T1 | Mt. Washington, MD 21209 | http://copla.org | 202.375.0857 | 410.800.6253
Lead or Resign, a Call to President Sirleaf
A Radio Free Liberia Commentary
April 11, 2006
President Ellen Johnson Sirleaf and the Unity Party-led government say they are considering underwriting the legal fees for indicted and disgraced former Liberian President Charles Taylor. Liberia's Information Minister Johnny McClain told reporters that President Sirleaf wants to ensure that Mr. Charles Taylor has a better legal team to guarantee a fair trial. Radio Free Liberia is disturbed by this latest development in a series of attempts by President Sirleaf to allocate the country's scarce resources to protect her war-time partner. Mr. Taylor is indicted for crimes committed against the people of Sierra Leone. Recently the UN-backed court in Sierra Leone provided Mr. Taylor a defense team to represent the former war lord before the tribunal. It is not the ruthless crimes committed against the Liberian people for which Mr. Taylor is standing trial. It is his role in Sierra Leone for which he is being cornered.
The fact that President Sirleaf is worried about Taylor receiving a free and fair trial presupposes that the UN backed court does not have the capacity and ability to dispense justice as required under international law.
President Ellen Johnson Sirleaf, as member of a Washington, D.C.-based Association for Constitutional Democracy in Liberia, ACDL, financed Taylor's bush war that murdered over half a million Liberians. President Sirleaf's decision to use public funds to defend a criminal that destroyed Liberia and left its people paralyzed represents a calculated judgment designed to please a handful of war criminals at the expense of the suffering people of Liberia.
Madam Sirleaf's attempt to use taxpayers' dollars to defend a war crime suspect is an impeachable offense which must be investigated by the international community and the Liberian legislature.
We call on the United Nations, the African Union, and the governments of the United States, Great Britain, and the European Union to order an immediate investigation into President Sirleaf's contempt for the UN-backed court in Sierra Leone. Furthermore, by her action, President Sirleaf has challenged the credibility of the Special Court, something which must never go unpunished.
In Liberia, where Taylor committed atrocities against hundreds of thousands of innocent people, President Sirleaf crafted a so-called Truth and Reconciliation Commission as if Liberia does not deserve better. Even at that, the Sirleaf administration has yet to fund the TRC it constituted but with the financial contributions of foreign governments. The Chinese Ambassador was right when he recently lambasted Liberia at a public ceremony in Monrovia about its begging business instead of being self-reliant.
Gradually, the buried ashes are coming out. Mrs. Sirleaf and others who financed the death and destruction of the West African Sub-region are worried that their agent of death and chaos is on the line to face harsh punishment, so tax payers — whose relatives those ACDL conspirators killed in Liberia — must shoulder Taylor's legal bill. Is this Harvard-style grandmotherly sensitivity and compassion for the devastated people of Liberia?
We beg to differ!
For too long, Mrs. Sirleaf and her likes have taken Liberians for a ride. Even today they still believe that while the blood of the masses still runs fresh in Liberian rivers, it is time to bleed their resources. During the campaign, Radio Free Liberia reminded the electorate that Mrs. Sirleaf represented the worst dream for Liberia and that her connection with Mr. Charles Taylor was as strong as the day the first war bullet was shot. Many doubted us. Bit by bit, Liberians are getting to know the true Ellen Sirleaf and heragenda for Liberia.
Since her election, President Sirleaf lives in contradictions. First the Taylor affairs was not a priority of her government, and it later became; then under pressure from the United States, the Liberian government turned Taylor over in a melodrama.
While President Sirleaf, as an individual, has a right to disburse her finances as she wishes, allocating state funds for a man who drained the national treasury speaks volumes about her intent — if any — to reconcile and reconstruct Liberia to benefit all Liberians. Worst still, President Sirleaf has made Mr. Taylor's defense a top priority of her government as if Liberia is shorton projects and programs. President Sirleaf inherited a country without safe drinking water, the education system has collapsed. Teachers have not been paid for several months. The streets in the capital Monrovia lack attention. Corruption is on the rise, and the healthcare delivery system is out-sourced to international relief agencies. In the face of these difficulties, President Sirleaf has decided to send Liberian tax-payers' money to defend her foot soldier in Sierra Leone.
We call on the Liberian people to wake up to the challenge and defend their Motherland because President Sirleaf wants to compromise the dignity and pride of the suffering people of Liberia. This should never happen now or in the future. Now is the time for Liberians to say no to President Sirleaf. Now is the time for Liberians to wake up from their sleeping beds. Now is the time for Liberians to brave the challenge and save their country. Now is the time to tell Mrs. Sirleaf that Liberia is no longer the farm of a privileged few. It is high time to send a clear message that the country's money does not belong to the imperial presidency.
President Sirleaf is behaving as if Taylor is a hero. Taylor, at best, is a criminal, who stole the wealth of the Liberian people and murdered their families, friends and loved ones. We warn President Sirleaf never to challenge the resolve of the Liberian people in charting their destiny.
We strongly warn President Sirleaf to desist from acts that have the potential to undermine international goodwill and solidarity to Liberia and its people. Sirleaf must keep Liberia out of Taylor's business in Freetown, Sierra Leone.
To reconcile and rebuild Liberia is a difficult one that must be met with honesty and commitment to service. But it is becoming clearer and clearer each day that Madam Sirleaf seems to lack the capacity to provide leadershipto a down-trodden people like those in Liberia. We can safely suggest that if footing Taylor's legal bills is a priority over the task of national reconciliation andreconstruction, then we believe it would be in the best interest of President Sirleaf and her government to resign and turn the authority over to a new administration.
Meanwhile, our town crier reminds us that a mouse that runs in the cold is bound to lose its hold to on-lookers. Ironically, Madam Sirleaf and her ACDL colleagues financed the mass murder of our people. Today, the Madam is coercing the victims of the war to underwrite the legal cost of Mr. Taylor, her foot soldier.
We, therefore, challenge the Liberian President to lead or give way because Taylor being in Freetown has nothing to do with Monrovia.