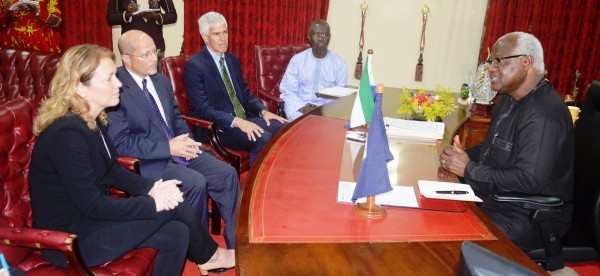 MCC Team Visits President Koroma
Chief Executive Officer (C.E.O.) of the Millennium Challenge Corporation (MCC), Dana J. Hyde and team on Friday October 22 paid a courtesy call on President Dr Ernest Bai Koroma at State House in Freetown.Ambassador John Hoover, who led the delegation, said the team was in the country to oversee the implementation of the MCC threshold particularly in the energy and water sectors.

Welcoming the team, President Koroma thanked the Chief Executive Officer for fulfilling her promise to visit the country at this material time. He thanked the MCC for intervening to strengthen the two sectors – energy and water – as part of the MCC threshold in which he informed the team that the country is making progress on. For proper coordination of the threshold "I appointed one of my advisers to provide coordination in the whole process to achieve better results at the end of the day."

Dana Hyde said they were delighted to visit Sierra Leone to meet with public and private sector partners who are advancing MCC's threshold programme. The C.E.O. was quick to also mention that they were pleased with the ongoing transformation in the two sectors – energy and water.

Commenting on the resilient nature of Sierra Leoneans, Dana Hyde said the people of Sierra Leone have repeatedly demonstrated their ability to overcome challenges and lift themselves up. She said the country after the war set a strong democratic precedent and launched on the path of rapid economic growth but sadly hit by the tragic Ebola epidemic which abruptly interrupted the nation's positive trajectory. She assured of US continued support to the country's recovery and the restoration of long-term economic growth to advance the fight against poverty.