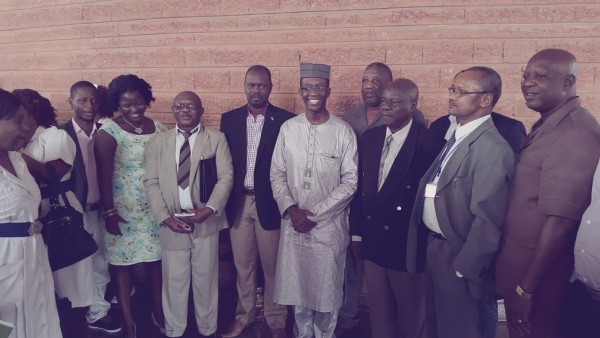 Dr. Abu Bakarr Fofanah flank with doctors and health professionals
Freetown, Sept. 11, 014 (MOHS) – Presidential Nominees for the position of Minister of Health and Sanitation, Dr. Abu Bakarr Fofanah and Deputy Minister II (Two), Madam Madina Rahman have been unanimously ratified by Parliament to serve as substantive Minister of Health and Deputy Minister respectively.
The two nominees Dr. Fofanah and Madam Rahman were ratified by Parliament after eminently declared qualified in the Well of Parliament clouded by nurses, doctors and other Health professionals.
The Parliamentarians noted that the two nominees are coming in at a very difficult and challenging time, describing the situation as equally a time to measure their performances.
Minority Leader, Hon. Banadette  Lahai in her contribution, commended President Koroma for appointing two professionals to serve in a strategic ministry that deals with human lives, but that she is optimistic of them making the expected impact if the doctors, nurses and other health care workers provide the willingness, commitment and patriotism to support their efforts.
Chief Whip, Hon. Claude Kamanda, advocated for the provision and appointment of a District Medical Officer Western Rural, stationary ambulance and Burial Teams in his Constituency. He  lauded President Koroma for the appointment of the two highly qualified medical professionals to mann the Ministry.
The newly appointed Health Minister, Dr. Abu Bakarr Fofanah is eloquent, soft spoken with a humble.
He is a brilliant doctor licensed to practice medicine in both Great Britain and Sierra Leone, and graduated with a BSC in Basic Medical Sciences, Masters in Physiology, MB. Ch. B, and holds an Advanced Diploma in Tropical Medicine accredited by Mastership of the Royal College of Physicians in the United Kingdom.
Dr. Fofanah also has to his credit an Advance Diploma in Public Health Tropical Medicine from the Institute of Tropical Medicine, Berlin, Germany where he further graduated with an Advance Certificate in Vaccinology.
The new Health Minister holds a Joint European Masters in International Health and majored in Communicable Disease Control and prevention for developing countries.
He is a fine and admirable University Lecturer at the College of Medicine and Allied Health Sciences (COMAHS) University of Sierra Leone.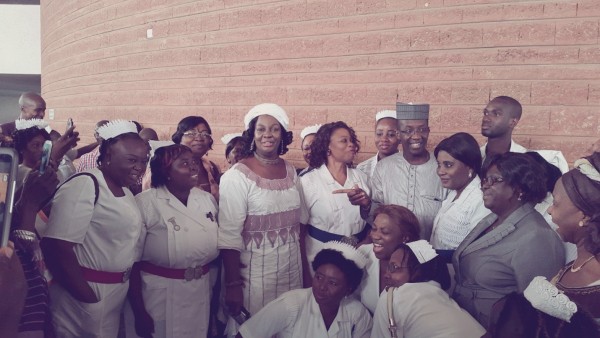 Health Minister, Dr. Abu Bakarr Fofanah and Deputy Minister II, Madam Madina Rahman with nurses
Deputy Minister II (Two), Madam Madina Rahman is a highly qualified Nurse, worked in reputable health Institutions in the United States and back home has been providing consultancy to the Ministry of Health, coordinating staff training and welfare with a resourceful cordial relationship with the Directorate of Nursing Services.
Madam Rahman is conscientiously particular about the ethics and code of practice in the nursing profession, and Infection Prevention Control.
She diligently serve the Princess Christian Maternity Hospital, Ola During Children's hospital, Lakka, Lumley and Connaught hospitals among other pertinent services rendered to the Ministry.
JAK/MK/MOHS