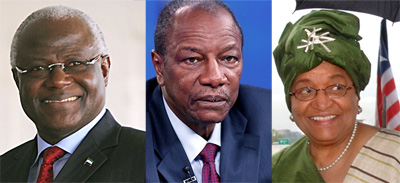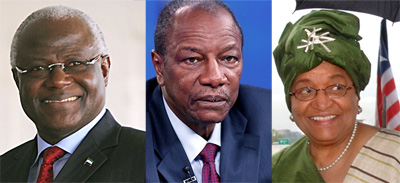 MONROVIA, August 2 (LINA) – Leaders of the sub-regional Mano River Union (MRU) have held a one-day summit in the Guinean capital, Conakry, on the Ebola disease that is ravishing their countries.
The MRU is an economic bloc grouping Guinea, Liberia, Sierra Leone and Cote d'Ivoire
The Ebola virus, which originated in Guinea, has hit Liberia and Sierra Leone, leaving in its trail over 600 dead in the three countries
Presidents Ellen Johnson Sirleaf of Liberia, Dr. Ernest Bai Koroma of Sierra Leonean and host Dr. Alpha Conte of Guinea, who also chairs the Union, exchanged views on how to combat the deadly Ebola disease that is claiming lives in their countries.
They were joined by the Director-General of the World Health Organization (WHO), Margaret Chan, who launched a new joint US$100 million response plan as part of an intensified international, regional and national campaign to bring the outbreak under control, according to an Executive Mansion release.
 "The scale of the Ebola outbreak, and the persistent threat it poses, requires WHO and Guinea, Liberia and Sierra Leone to take the response to a new level, and this will require increased resources, in-country medical expertise, regional preparedness and coordination," the WHO Director-General said.
"The countries have identified what they need, and WHO is reaching out to the international community to drive the response plan forward," she added.
 The Ebola Viral Disease Outbreak Plan for the sub-region has identified the need for several hundred more personnel to be deployed in the affected countries to supplement overstretched treatment facilities.
Of greatest need are clinical doctors and nurses, epidemiologists, social mobilization experts, logisticians and data managers.
The plan also outlines the need to increase preparedness systems in neighboring nations and strengthen global capacities.
Hundreds of international aid workers, as well as over 120 WHO staff, are already supporting national and regional response efforts, but more are urgently required, the release said.
The Ministers of Health and Social Welfare, Foreign Affairs, National Defense, Internal Affairs, and Information, Culture and Tourism accompanied the Liberian leader.
President Sirleaf and delegation have since returned home.
LINA TSS/PTK