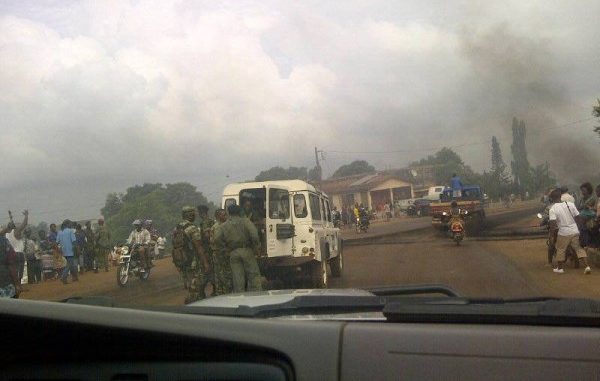 Government restores normalcy in Police-taxi drivers cha
YESTERDAY, there was an altercation at Lumley in  the outskirts of Freetown between the Sierra Leone Police and taxi drivers.
According to reports received by COCORIOKO, a taxi driver , Mr. Lamin Kamara ( Popularly known as Africa ) was arrested on Tuesday  by the Police for an alleged traffic offence . He later died in police custody. There were conflicting reports about the cause of the death.
A Police officer , Ms. Mira Kamara , writing in the social media site FACEBOOK , said that the taxi driver was drunk  when arrested  and he died of natural causes in police cells. According to Officer Mira Kamara, "No police officer beat him up. Report from the hospital where the autopsy was done with the presence of his family members. His pancreas had already packed up, and was merely a living corpse. During the riot, we lost one OSD. He was crushed in a road crash. "
However, supporters of the driver alleged that he was beaten up while in police custody and it was said that in the impending chaos, a police officer lost his life in an accident.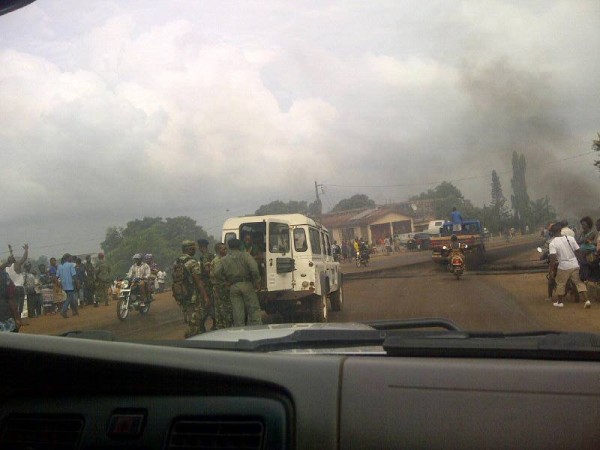 WE BRING YOU A PRESS RELEASE FROM THE MINISTRY OF POLITICAL AFFAIRS.
 _________________________________________
PRESS RELEASE
6th December 2013
The Ministry of Political and Public Affairs deeply regrets the death of Mr Lamin Kamara, a 42 year old taxi driver of Malama Lumley, and Police Constable Mustapha of Adonkia Police Station, which sad events took place on the 4th and 5th of December 2013 respectively.
Mr. Lamin Kamara was arrested by the Sierra Leone Police for reckless driving under the influence of alcohol to protect the lives and properties of citizens. He became unconscious while in Police custody and subsequently died en route to the Connaught Hospital.
Police Constable Mustapha was killed in an accident in the line of duty in quelling an ensuring riot staged by drivers protesting the death of Mr. Lamin Kamara.
The Ministry of Political and Public Affairs wishes to inform the general public that according to the pathologist's autopsy report, Mr. Lamin Kamara died of natural causes including adult respiratory distress syndrome, acute haemorrhagic fatty pancreatitis, and fulminant viral infection. The Ministry also wishes to inform the public that Police Constable Mustapha's death was not a revengeful action by demonstrating drivers.
The Ministry therefore wishes to assure the public that Government has restored normalcy and will provide the necessary leadership to address the factors that led to the unfortunate incident. The Ministry condemns all act of violence, threat of violence and or any other acts of taking the law into your own hands. You are hereby informed to stay calm and have confidence in the security and justice sectors.
Lastly, the Ministry would like to thank the Sierra Leone Drivers' Union, the Sierra Leone Police, and Anti- Violence Movement for their collaboration with the Ministry of Political and Public Affairs and the Ministry of Transport and Aviation in the first response action.
Signed
Karamoh Kabba
Ag Minister of Political and Public Affairs