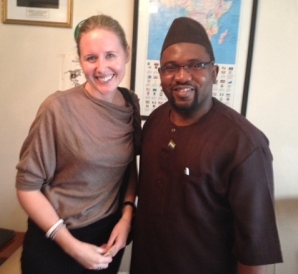 Madam Bethany Madden, New Zealand's Deputy Head of Mission (DHM) to the Federal Democratic Republic of Ethiopia on Friday 27th June 2014 paid a courtesy call on Sierra Leone's DHM to Ethiopia, Mr. Ismael Koroma.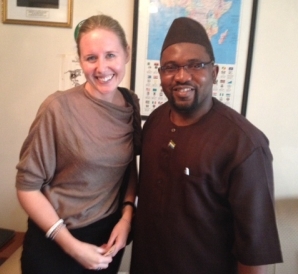 The overriding objective of Madam Madden's visit was to discuss issues bordering on the already existing cordial bilateral relations between the two sister countries of Sierra Leone and New Zealand.
She said: "I am so glad and delighted to meet with you. Sierra Leone is just one such amazing country that has some commonalities with New Zealand. It will interest you to know that two years ago, I spent my Christmas holiday in your beautiful country."
Madam Madden informed her colleague that New Zealand is in the process of increasing its engagement with Africa, adding that they have established three Embassies on the Continent-South Africa, Egypt and Ethiopia respectively.
She intimated Ambassador Ismael Koroma that her country has a lot of similarities with some African countries.
"My entire career is African focused," she added.
In a bid to further increase their cooperation with the ECOWAS bloc, she disclosed that her Government is looking forward to open an Embassy in West Africa.
Responding, Sierra Leone's DHM to Ethiopia, Mr. Ismael Koroma expressed his gratitude in receiving Madam Madden.
"We are doing our job in line with our foreign policy position," he stated. He said that Sierra Leone is a pacesetter in the world with regard to peace building, good governance, peacekeeping and transitional justice, citing the 2012 general elections as an example worthy of emulation.
Ambassador Koroma implored Madam Madden to consider Sierra Leone when they are opening their Mission in West Africa taking into consideration the peaceful nature of the country. He pointed out that Sierra Leone is always ready to cooperate and collaborate with New Zealand at any level of bilateral cooperation.
He informed her about the progress made on the world stage by His Excellency, Dr. Ernest Bai Koroma, President of the Republic of Sierra Leone. He also spoke of the role of the President as Coordinator of the Committee of 10 on the United Nations Security Council Reform.
He further updated the New Zealand diplomat about the recent C-10 Summit of Heads of State which was held in Congo Brazzaville. He said that the recently concluded C-10 meeting was the first C-10 Summit ever held outside the margins of the Assembly of the African Union. "The Summit was preceded by C-10 Foreign Ministers and Permanent Representatives of New York and Addis Ababa meetings that were held in Freetown last year," he added.
Both representatives spoke on a number of issues relating to economic diplomacy citing tourism, education and international trade as a way forward.
The meeting was also attended by the Minister Counsellor and Head of Chancery, Mr. Ibrahim Vandi Kondoh and Mr. Victor Kamara, Second Secretary of the Embassy of the Republic of Sierra Leone in Addis Ababa.
Abdul Karim Koroma
Information Attaché
Embassy of the Republic of Sierra Leone
Addis Ababa
Ethiopia